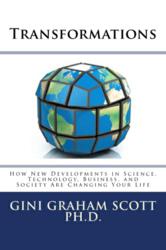 What you know today will be totally changed tomorrow; so expect change and learn to adapt to it.
San Francisco, CA (PRWEB) June 13, 2013
TRANSFORMATIONS: How New Developments in Science, Technology, Business, and Society are Changing Your Life inspired by a series of articles initially published in the Huffington Post, features short commentaries on new developments that are changing everyone's life. This book is especially important today given the rapid pace of change which is transforming everyday life and requiring people to be more adaptable than ever. Besides describing these changes and trends, the author suggests what other possibilities might follow, offers ideas for future developments, and critiques the way these new developments are transforming our life for the better or worse.
Some examples of the chapters in each section which feature comments and suggestions on the present and future changes in our life are:

some amazing new devices such as talking toothbrushes and forks
why lottery winners might do better if winners could give money away;
how blindly following a GPS can lead to problems;
the end of road rage with the rise of driverless cars;
chimp memory power and the decline of human intelligence;
the new cinematographers – animals with critter cams and video cameras;
the new science of bringing back extinct animals;
new technologies enabling people to see with their tongues
how mind control is becoming for real;
the possibility of living forever.
TRANSFORMATIONS is the latest book by Gini Graham Scott, who has published over 50 books with major publishers, many dealing with social issues, including The Very Next New Thing, The Truth About Lying, and The Death of Privacy. She is also an independent filmmaker, who has written and produced over 60 short films, which be viewed at her YouTube Channel at Changemakersprod. Most recently she completed a short film called The Suicide Party, about a once successful salesman who decides to have a "suicide party" when he is about to lose his house and everything he holds dear. If he gains enough money to save his house and get back on his feet he'll live or will quietly end it all, leading to a media frenzy and unexpected results.
Gini Graham Scott is the founder of Changemakers Publishing and Writing . Besides publishing over 30 books through Changemakers Publishing, the company helps others write, publish, and promote their own books. Scott received a PhD in Sociology from the University of California in Berkeley, a JD from the University of San Francisco Law School, and MAs in Anthropology, Mass Communications and Organizational/Consumer/Audience Behavior and Popular Culture and Lifestyles at California State University, East Bay. She is getting an additional MS in Recreation and Tourism in 2013. She has spoken about the topics of her books to many groups and the media, including appearances on Good Morning America, Oprah, and CNN.