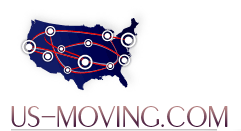 US-Moving.com has been offering moving companies, and now truck rental company information to enable people to move at their own convenience.
(PRWEB) June 14, 2013
For many years, US-Moving.com has been offering customers access to moving companies that offer full-service moving services. Recently, they have added truck rental companies to their online database listing of moving service companies. Customers who want to save on the cost of moving can now rent a truck cheaply and do their own moving. When one is moving to a new home, they can hire a full service moving company, use their own vehicle to transport their goods or rent a moving truck and do their own moving. However, if a customer uses their own vehicle it is economical because they have to make several trips and in the process spend a lot of money on fuel. In addition, it is difficult to use a private vehicle if moving to a distant location.
"We understand that while using full service moving is the easiest way to move, the cost of this service can be overwhelming. With the introduction of the new truck rental service, people can now make a move cheaply and at their own convenience," said the marketing manager of US-Moving.com. It is a simple process because customers can hire a vehicle from one location, use it to move to another location and leave the truck in the nearest branch, of which there are many.
There are no restrictions on mileage as long as they drop it off at the agreed location at the correct time. Most other truck rental companies do not offer one way moves and one will have to drive the rented vehicle all the way back to the location they have just left to return it.
US-Moving.com now brings companies that have a wide range of vehicles from trucks, cargo trailers, vans and pickup trucks to be rented out for moving. This ensures that one gets to hire a vehicle that exactly fits their needs and budget.
http://www.US-Moving.com understands that price is the most critical thing people consider when they are looking to hire a moving truck provider. This is largely because price is exactly what drives people into opting for a rental truck instead of full service moving. Therefore, with this new service, customers can hire their moving vehicles at the cheapest price in comparison to other rental companies. In addition, the price includes taxes and insurance. The vehicle simply needs to be returned with same amount of fuel as when it was rented.
US-Moving.com has been offering moving companies, and now truck rental company information to enable people to move at their own convenience. All moving vehicles that customers hire from the companies listed can be driven to any location and by anyone as long as they have a valid driving license. The companies listed are also known for their exceptional customer service and in case of any breakdown; the company will provide an alternative vehicle.