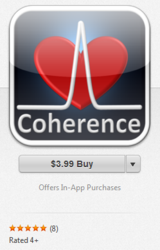 The five star way to improve your well being
Genova, Italy, (PRWEB) June 17, 2013
According to a recent study conducted by the American Customer Satisfaction Index (ASCI), which tracks customer satisfaction for more than 225 companies in 45 different industries, the average company customer satisfaction rating is 73 percent, but representatives with SoftArea srl announced today that 100 percent of its US customers, who have left a feedback, have all given HeartRate+ five star ratings.
The ratings can be viewed at the App Store, which displays ratings once an application receives at least five reviews.
"We have now obtained more then five customers reviews in the US market and all of them are five stars, which is the maximum you can get," said Michele Bellin, ceo of SoftArea srl. "On October 29th, we had the first positive customer review, so we're excited about how positive and well received this app has been since its release."
Bellin explained that HeartRate+ correlates the expected heart rate variation with the measured heart rate variation and provides the user with the coherence score, which measures how well a person's heart rate is after breathing.
The app is a follow-up of the medical research made by SoftArea srl, which has been active in Italy since the April 2011 in the field of Sleep Quality and Relax.
One customer who left a review at The Apple Store, described HeartRate+ as an extremely useful app.
"I'm telling everyone about this app," the reviewer wrote. "My daughter was advised to do biofeedback to help combat her migraines. The portability of this app allows her to integrate it into her busy lifestyle."
A second reviewer said HeartRate+ is great for relieving stress.
"It works as well as some of the high priced technology," the reviewer stressed. "I highly recommend it."
Bellin explained that the difference between HeartRate+ and other applications on the market that's able to monitor users' heart rate using the iPhone camera and applications while guiding users through breathing sessions, is that HeartRate+ is the first application that is able to simultaneously perform both functions.
That's what excited a third reviewer.
"The amount of vitality gained from just breathing intentionally is truly remarkable, and seems to me a "secret" to health that shockingly few people in the healthcare profession talk about, so without a doubt, anyone interested in health should be doing conscious breathing exercises," the reviewer wrote, before adding, "However I was never aware of the connection between breath and heart rate."
The reviewer went on to point out that HeartRate+ not only teaches the connection, but also monitors and maps the relationship in real time.
"I was skeptical that such a system would work, but this does work, and it works smoothly," the reviewer said. "Seeing the connection is psychologically rewarding, a form of biofeedback that makes me more motivated to persist in the exercises. I'm planning to make this a part of my breathing exercise routines, and applaud the scientists and developers behind this new app."
For more information, please visit: http://www.heartrateplus.com