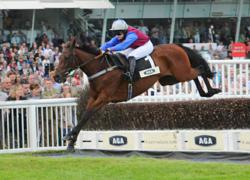 (PRWEB UK) 24 June 2013
Taking it up with a circuit to go, Swift Counsel was three lengths clear rounding the final bend, and after being joined at the last fence by That's Rhythm got his head in front again on the run-in, but under a fine ride from Page Fuller the favourite forged ahead close home.
The 13-year-old, who was here giving away 6lb to the runner-up, was purchased by the Fullers only in April from previous owner Nick Wakefield, and has now triumphed on all three occasions since Page took over the ride.
The first two pulled well clear of their rivals, but Impact Zone, who was outpaced with a mile to go, stayed on well to finish third, just ahead of the course specialist Lady Myfanwy, who was having her 12th race of the season.
Page, still only 17, is just finishing her 'A' levels at Marlborough College and, after a gap year, will be going to Exeter University to read Economics and Finance. This summer she is hoping to go to work for a trainer in France.
That's Rhythm is trained for the Fullers by Sally Duckett and the victory ensured her of the season's leading Hunter Chase trainer award. "He's tenacious, and he loves racing so much," was how she described her charge. :"Winning the AGA final was just incredible."
The AGA ladies' Open Point-to-Point Championship final offered prize money totalling £10,000. The winners received £5,295; second place secured £1,754; third £877 and fourth £439. The winning owner, trainer and jockey all received an AGA library clock.
Jane Williams, rider of Swift Counsel, did not go away empty-handed; however, as the points she gained here and during the season won her the http://www.agaliving.com. Total Control cooker worth £10,000 on offer to the rider accumulating most points in the AGA races staged throughout the campaign.
Jane ended the campaign on a total of 54 points, 12 ahead of Hannah Lewis. Phine Banks finished on 36, Gina Andrews and Clare Hart on 32 and Charly Prichard on 30.
Jane admitted that finishing second in a race was usually a "no-no" as far as she was concerned, but on this occasion she was over the moon. She said: " I've never been so happy to come second!"
FULL RESULTS
1 That's Rhythm. Owned by Richard & Charlotte Fuller, trained by Sally Duckett, ridden by Page Fuller. SP 11/8 fav.
2 Swift Counsel. Owned & trained by Diana Williams, ridden by Jane Williams.
3 Impact Zone. Owned by Susan Mason, trained by Ian Mason, ridden by Jo Mason.
4 Lady Myfanwy, ridden by Hannah Lewis.
5 Description, ridden by Gina Andrews.
6 Miss Saffron, ridden by Lucy Gardner.
7 Little Miss Monty, ridden by Rachel Leyshon.
8 Knight Blaze, ridden by Charlotte Prichard.
9 Peplum, ridden by Hannah Grissell.
PU Rathcor, ridden by Ally Stirling.
PU Special Occasion, ridden by Lucy Gould.
11 ran. Distances ½ length & 9 lengths. Time: 6min 49.6sec.
Further images of the race are available to view/download via the following link:
Further images from the AGA Ladies' Open Point-to-Point Championship final at Stratford-upon-Avon
Company Information
AGA Living is a one-stop-shop for AGA Range Cookers, AGA American Fridge Freezers, range cookers, stoves and refrigeration units, all of which are designed to be modern & stylish but maintaining practicality & functionality.