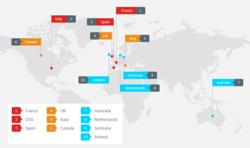 The United States is the second largest market in the world for home swap, surpassed only by France.
Barcelona (PRWEB) June 14, 2013
Home exchange during holidays is becoming an increasingly common practice among Americans, and the trend is growing with double digits every day. One of the platforms that has grown the most in the recent years is Knok.com. In only 2 years, Knok has become one of the market leaders in home exchange.
The 10 countries with the most homes to home exchange are:
1. France
2. United States
3. Spain
4. United Kingdom
5. Italy
6. Canada
7. Australia
8. The Netherlands
9. Germany
10. Ireland
The savings stand out as one of the most important advantages for home exchangers
35% of users remark that "savings" is the strongest aspect about home exchange, whereas 29 % point out "the comfort of having a full home on your own". And 25% enjoy "a bigger space than a hotel room", "staying at the destination longer" and "making new friends".
Home exchange holidays are perceived as an opportunity to save on hotel bills, every day more people join in order to get a more personal way to travel. Staying at a private house complete with the suggestions of a family that lives in the destination regarding the best places to visit, eat, how to avoid queues, etc. make a vacation more personal than the traditional hotel accommodation.
Most home exchangers are families with kids
The group embracing home exchange the most are families with kids, making up 35% of the total, followed by couples at 30%, people living alone 15%, groups of friends 12%, and retirees 8%. In fact, families are the group that can enjoy the most advantages of the comfort of a home with amenities such as a washing machine, kitchen, kids' toys, more space, in addition to saving on accommodation.
If you've thought of taking a different vacation this year you can start by taking the test here: http://www.knok.com/test.php

Study done by Knok.com in May 2013 based on the total number of homes listed in the largest home exchange clubs in the world.