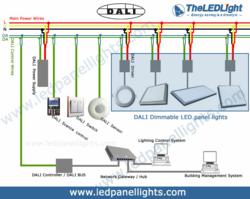 (PRWEB) June 13, 2013
The LED Light (China), a renowned LED light panel manufacturer and wholesaler from China, has just released its new DALI dimming LED panel light collection to its product catalog. According to Ping Zhang, a spokesman for The LED Light (China), the company will release new designs every few weeks to enrich its production line.
DALI is an International Standard (IEC 62386) for the control of electronic ballasts, transformers, LED's, emergency lights and exit signs in an easy to manage digital lighting control system. The LED Light (China)'s new DALI dimming LED panel light is specially designed to replace traditional light fixtures for various applications. Moreover, owing to the advanced heat dissipation technology, this new design is suitable to be used in shopping malls, supermarkets, factories, bus and train stations, warehouses, tunnels, and other public places.
"We are extremely excited to introduce our new design to our customers worldwide. DALI dimmable LED panel light is a brand new idea in the LED industry. It is possible to create predefined lighting scenes and lighting effects perfectly tailored to specific tasks," say, Ping Zhang. "Now, the new product is available with discounted shipping costs, those who have an interest can visit our website as soon as possible, because stock is limited."
Moreover, The LED Light (China) is providing many innovative DALI electronic control gears for compact fluorescent lamps, tungsten-halogen lamps, fluorescent lamps, high pressure discharge lamps and LEDs. The company ensures that its products can protect the people's health as well as environment, because they don't contain dangerous chemical factors.
About The LED Light (China) Co., Limited
The LED Light (China) Co. Limited founded in 2005, and it is a professional manufacturer of LED products. 99% of its LED light panel products were exported to Europe and America in the past eight years. The company is dedicated to designing and manufacturing functional, premium-quality, and eco-friendly LED products to its clients worldwide.
More information about LED panel lights can be found at: http://www.ledpanellights.com/