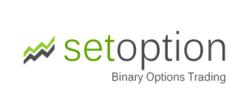 Invest Money To Earn Money!
Carouge, Switzerland (PRWEB) June 18, 2013
SetOption, a leading Binary Options Broker, enjoys the popularity of being a professional broker that offers an opportune trading platform to both seasoned and new traders. The binary options system offered by this broker is backed with state of the art technology, but presents a useful and convenient interface to help traders enjoy simplicity of trading.
Bitcoin has moved to places in such a minor time span and SetOption, realizing this fact, has now launched its newest offering in the form of Bitcoin trading. The managing director at SetOption recently announced this brand new service by the broker. The website will now unreservedly support Bitcoin and a completely new section has been dedicated to the same.
The broker has at present a dedicated section for this new virtual currency that will list everything in categories and sub-categories to help traders get all their queries answered in a moment. New traders can learn in depth about this so-called 'crypto currency', at this best binary trading platform.
Just few highlights about this newest service at SetOption can be described as such:

SetOption, with its new asset, is bound to add another star to its success
As a trusted broker, the reputation they enjoy in the industry is great and with this new offering, it is bound to get better
Bitcoins are now exclusively available at this leading broker of binary options
SetOption is committed to making the trading process as easy as possible
The freedom to avail multiple account currencies is all represented ideally
The platform is completely safe and secure and carries no room for security issues or flaws
The features and facilities offered at SetOption are at par with the leading brokers out there, which offer the freedom to trade binary options for traders worldwide. Traders like the well-planned and easily navigable website a lot. In addition, the easy account registration and client support, which is prompt, makes solving any issue easy, quick, and convenient. Traders can now get hold of a dedicated resource that can help them easily understand the changing scenario of the global financial system at SetOption. The broker has always been answering the one biggest question every trader has on mind of 'how to trade binary options', with the best possible answers.
About SetOption
The award-winning binary options broker SetOption expanded its scope of service to include Bitcoin trading. The broker offers this service with a dedicated resource, while taking into account the individual queries and doubts traders have in mind. To know more about the offering in this brand new venture, you can visit their website at http://www.setoption.com.