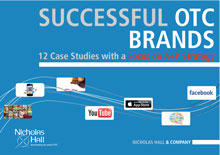 Nicholas Hall is pleased to announce 'Successful OTC Brands' will publish this month.
(PRWEB UK) 17 June 2013
This upcoming report 'Successful OTC Brands' from the OTC specialist, Nicholas Hall & Company, will be published this month. The report focuses on advertising and promotion [A+P] strategies from 12 OTC brands. In this difficult market environment, leading brands have struggled to capture additional market share as they not only face competition from rival branded entries but also from cheaper private labels.
Designed to provide OTC marketers with an array of examples, the report covers 12 brands including Advil, Allegra, Buscopan, Centrum, Nurofen and Voltaren. The case studies span across major OTC categories: Analgesics, Cough, Cold & Allergy [CCA], Derma, Gastrointestinals [GIs] and Vitamins, Minerals & Supplements [VMS]. Each one includes the latest year-end 2012 sales data from DB6, examination of key markets, an overview of innovations & NPD, and detailed analysis of individual A+P campaigns.
Today, marketers face the difficult task of planning complex marketing campaigns. Brands are launched on several platforms from television and print, to social media and tablets. In this report, Nicholas Hall & Company provides readers with key learnings that can be taken away to help brands prosper and grow their business. The report is available as a full report and as individual brand modules.
About Nicholas Hall & Company
Since 1978 Nicholas Hall & Company has offered comprehensive OTC marketing and business solutions. Specialising in OTC, our consultants and market analysts have many years of experience while our international network of contacts means we can offer strategic advice, data & analysis and competitive intelligence on a global scale.
Our reports draw on the in-house expertise of our specialist analysts and researchers, on the-ground knowledge from our Network Partners, and Nicholas Hall's unique insights, plus the latest sales data from our DB6 global OTC database. Each title provides in-depth analysis, identifies major trends and developments, highlights consumer preferences and forecasts future trends.
For more information, please visit http://www.NicholasHall.com.
Contact Details:
Valerie Tsang, Group Director of Marketing & Sales
val(dot)tsang(at)NicholasHall(dot)com