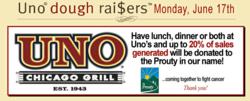 Concord, NH (PRWEB) June 13, 2013
The Grappone Automotive Group will be participating in The Barley House's Burgerfest and Uno's Dough Raisers to help raise money for some great local charities. From June 14 – 22nd, the Barley House in Concord will devote its entire menu to gourmet burgers during Burgerfest. Each burger is sponsored by a local patron, and for every one of those burgers sold during the event, the sponsor donates $1 or $2 dollars to Fred's Fund and CHaD. In addition, New Hampshire Distributors designate certain beverages on the Barley House menu and donates $1 for every one sold. Check out The Classic Patty Melt, which is the Grappone sponsored burger! For more information on the Burgerfest visit http://www.thebarleyhouse.com/.
On Monday, June 17th, the Grappone Automotive Group will hold a dough raisers event at Uno's in Concord to help raise money for The Prouty, a major fundraiser for the Norris Cotton Cancer Center. Whether you go for lunch or dinner, just mention that you are there for The Prouty dough raiser and up to 20% of your bill will be donated.
This is the 32nd annual Prouty Fundraiser which is dear to Grappone's heart since Greg Grappone, 4th Generation Co-owner was diagnosed with cancer. Grappone has been rallying together for the past few months to raise money for The Prouty and they will be hosting an in-house Chinese auction that will feature donations from local organizations on June 20th. Team Greg has raised over $21,000 with a goal of $33,000 and is one of the Top 5 fundraising teams. The Prouty takes place July 12th and July 13thand has already raised over $600,000 in donations. During the fundraiser participants will be able to walk, bike, row or golf. There is an activity and an intensity level for everyone. This is not a race but rather a way to show your support to cancer patients.
The Grappone Automotive Group was founded in 1924 and is family owned and operated and is now in its fourth generation of ownership. This Ford, Mazda, Honda, Hyundai, Scion and Toyota dealer group is known for their expansive inventory and superior customer service. What sets the Grappone family a part is the way they value and appreciate the relationships they have formed with their communities. They believe strongly in giving back to their communities to ensure sustainable success for all. For more information please visit http://www.grappone.com.