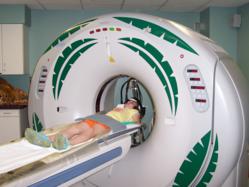 "At Dayton Children's we constantly seek to learn new and better ways to image children keeping their health and welfare above all else." Elizabeth Ey, medical director of medical imaging at Dayton Children's
Dayton, OH (PRWEB) June 13, 2013
Dayton Children's Hospital is a strong advocate for safe and low dose radiation for children. A June 10 study published by JAMA Pediatrics examined the rates and radiation dosages of CT scans used in children. The study showed an increase in the number of scans on kids before 2005, but revealed a consistent decrease since 2008. Many believe this decrease is in part due to the increasing concerns regarding possible links between radiation and cancer.
The medical imaging experts at Dayton Children's want to calm parents' fears and help them understand the benefits versus risks of CT scans for children.
"CT scans are absolutely required for a number of serious conditions, some of which are life threatening," says Elizabeth Ey, medical director of medical imaging at Dayton Children's. "Everything we do in life has a risk. We have to carefully weigh the risk of the disease or condition against the small risk of inducing a cancer over a lifetime."
When possible, Dayton Children's will use non radiation producing imaging methods to assess a patient's condition. However there are many times when a CT scan will give the best result. They allow doctors to see inside the body in less than a minute and often require no sedation. CT scans may be best option for a variety of conditions including:

Evaluating serious head traumas.
Evaluating a sudden change of neurologic status.
Evaluating certain tumors or serious infections in the neck tissue that could press on the airway and make it suddenly hard to breathe.
Evaluating intra-abdominal injuries, spine fractures or chest injuries
Evaluating the response to treatment in children who already have certain types of cancer.
Looking at bone detail, such as evaluating the tiny bones in the ear or fractures that are hard to define.
Looking at complex lung malformations or chronic lung disease
Evaluating for complications of certain types of bowel disease.
"At Dayton Children's we constantly seek to learn new and better ways to image children keeping their health and welfare above all else," says Ey. "We consider each child and their condition individually in order to perform the most appropriate imaging study."
The radiologists at Dayton Children's are early adopters of the Image Gently pledge which promises to take certain steps to reduce the amount of radiation used on patients. In order to ensure safe imaging of our patients Dayton Children's:
Requires all radiologists to be certified by the American Board of Radiology and have taken the Image Gently pledge
Uses child-size radiation doses and follows American College of Radiology's "Imaging Gently" guidelines
Works together with a child's physician to ensure the correct procedure to minimize radiation. We may suggest an alternate way to image the child first without radiation if possible.
Scans only through the indicated area of the body when CT is the best choice.
Reviews each order before scanning and assigning a specific protocol for the scan
Uses shielding when it does not interfere with the area that we are imaging
Screens each order to determine if sedation is necessary to minimize the need for repeats due to motion
Routinely reviews our CT dose techniques to be sure we are using the smallest amount of radiation possible
The staff of the medical imaging department of Dayton Children's fully embraces the position stated by the Society for Pediatric Radiology. The society recommends that patients, parents and caregivers advocate for their children, following the recommendations of many organizations, including the Image Gently Alliance. Parents should keep a record of their child's medical scans and ask doctors specific questions before having a medical imaging test performed on their child:
About Dayton Children's
One of only 45 independent freestanding children's hospitals in the country, Dayton Children's is the region's only medical facility dedicated to children. Accredited by The Joint Commission and serving 20 Ohio counties and eastern Indiana, the experts at Dayton Children's care for more than 290,000 children each year. Consistently recognized as one of the country's best and most cost-effective pediatric hospitals, Dayton Children's is home to the Wright State University Boonshoft School of Medicine, Department of Pediatrics and together with the United States Air Force shares the nation's only civilian-military integrated pediatric training program. For more children's health and safety information, visit our web site at http://www.childrensdayton.org.