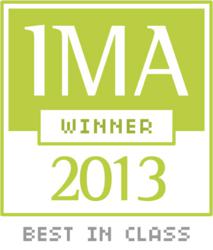 These awards represent a high level of recognition for our work.
(PRWEB) June 13, 2013
R2integrated is a digital marketing and technology agency with a multi-discipline team responsible for the strategy, design, development and marketing of digital assets for enterprise level clients. The company's designs are often recognized as innovative and forward leaning and five r2i designs have recently received new awards.
R2i was selected as a winner of four different awards in the 2013 Communicator Awards. Work is judged by the International Academy of the Visual Arts, an organization of leading professionals from various visual arts disciplines. R2i is honored to have been selected among the 6000+ entries for these international awards. R2i was selected as a winner for:

2013 Gold Award of Excellence (Website-School/University): KCUMB
2013 Silver Award of Distinction (Website-Shopping): Radcliffe Jewelers
2013 Silver Award of Distinction (Mobile Apps-Entertainment): Color Clix
2013 Silver Award of Distinction (Website-Other): Chrysler History
R2i was also awarded "Best in Class" in the Interactive Media Awards healthcare category for their work on Select Medical. This site was ranked the best out of 122 other entries and was judged by the Interactive Media Council which is dedicated to elevating the standards of excellence on the Internet.
"These awards represent a high level of recognition for our work," says Dave Taub, Chief Creative Officer of r2i. "We approach design in a holistic way so that user behavior, personas and the end goal of the website are known entities at the beginning of the process. It is this strategic method of website design and our understanding of how to optimize assets for integrated digital marketing that sets us apart from other companies who simply design websites."
For more on r2i, visit r2integrated.com.
About R2integrated
R2integrated ("r2i") is a high growth, next-generation digital/social marketing and technology firm specializing in creating meaningful customer engagement in the ever-changing world of peer-to-peer interactions. R2i provides advanced expertise in content and social media marketing and is able to bridge the gap between marketing disciplines and the advanced technologies required for 21st century execution. The company offers a comprehensive set of professional services and technology products including social/digital marketing strategy and programs, social/consumer data analysis technology, content strategy and content distribution technology, and reporting and analytics – all geared toward customer acquisition. R2i clients include Microsoft, Under Armour, Black and Decker, Time Warner Cable and Hershey's.