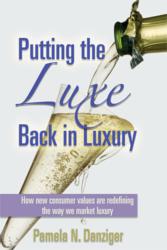 Affluent travelers are willing to pay, and pay highly, for the services they desire. By making room service impossible for guests, those hotels are eliminating themselves as a destination where these high-spending guests will to stay.
Stevens, PA (PRWEB) June 19, 2013
A growing cadre of hotels are evaluating their room service operations, and finding the service does not contribute its fair share to the bottom line. As a result the New York Hilton Midtown hotel recently announced an end of in-room dining, as reported by Crain's New York Business. This well-publicized announcement has led many industry watchers and participants to ask if Hilton has defined a 'new normal' in hotel operations and if room service is now a thing of the past.
Pam Danziger, president of Unity Marketing and author of Putting the Luxe Back in Luxury, discourages other hospitality companies to follow suit, as a new Unity Marketing survey of affluent travelers shows over 80 percent are willing to pay a premium for custom hotel services. Danziger explains, "The affluent are the heavy-lifters in the consumer economy, who make up only 20 percent of the population but account for over 40 percent of all consumer spending. As a result, these are the guests that should matter most to hospitality companies."
Danziger points to the results of an April 2013 Unity Marketing survey conducted among 364 recent affluent travelers (average income $245.4k) where 85 percent of those surveyed agreed with the statement, "I am willing to pay a premium price for the highest quality amenities and experiences when I travel." And even more, 87 percent, agreed with the statement, "When I travel, I value highly personalized service, where the staff goes out of their way to cater to my preferences." Click this link to download a chart of these and other luxury travelers' attitudes statements from the latest Unity Marketing Luxury Tracking Study.
Danziger explains these results show, "Affluent travelers are willing to pay, and pay highly, for the services they desire. By making that option impossible for guests, hotels that don't offer room service are cutting themselves out as a destination where these high-spending guests will to stay. So they may well turn to a Westin Hotel, part of the Starwood Preferred Guest network, which recently made in-room extended breakfast service part of a platform for its new 'Make Monday Better' promotion."
Industry-wide room service has come under scrutiny these days as a money-losing service that is dragging down the bottom line. Indeed other hotels have scaled back room service or ended it entirely, as reported by Crain's. For example, Grand Hyatt in Time's Square ended its 24-hour room service, which now shuts down at 11 pm, and Public, a Chicago-based Ian Schrager hotel, delivers food to guests in brown paper bags left outside hotel room doors.
But Danziger says these moves are putting the corporation first, not the guest, which isn't the way it should be in a service-driven industry like hospitality. "In this day of frequent international travel, 24/7 lifestyles and jet-lagged travelers further worn down by hassles getting to, from and especially through the airport, letting CFO's watching the bottom-line make important customer-service decisions is short-sighted," she says.
Rather than eliminating services, Danziger calls on hospitality companies to offer a better room service experience for its affluent guests as a way to distinguish the brand and encourage repeat visits. The key is to focus on delighting the customer by delivering a more satisfying, pleasurable, customer-focused room service while still making a profit.
She advises other hospitality companies to not follow suit to end room services and assume it is some 'new normal' for the hotel industry. Rather, focus on enhancing the room service experience to make it more satisfying to guests and more profitable for the company.
It's time to:

Re-engineer room service operations, starting from scratch and working out, as opposed to putting 'band aids' on existing problem areas.
To explore the 'ideal room service' experiences hotel guests desire, through professionally-conducted research designed to take high-paying guests to a new level of service experience.
To look outside the hotel 'box' and study other service-focused businesses to discover service models that might adapt to hotel operations. For example, what can be learned from studying the gourmet food truck businesses that attract long lines of customers and quickly deliver delicious food or from a renown retailer like Nordstrom which offers an exemplary model of customer service or from Zappos and Amazon, both of which have mastered the rapid delivery model to satisfy customers.
To strategically integrate loyalty/rewards program with room service. For example, by studying travelers' history, companies can determine guests that frequently order in-room dining and use those insights to reward guests for additional room service orders with added points, complimentary wine/beverage or other benefit.
To create and market special hotel and room service packages for business travelers, couples, families. For example, a family package where the children are treated to kids-express room service of burger and fries along with an in-room movie, while parents can dine in leisure in the hotel restaurant.
Danziger says, "Now isn't the time to throw in the towel and ditch room service. On the contrary, it is a call for hospitality companies to look at ways to innovate room service operations to be more effective for the hotel, its bottom line and especially more satisfying to the guests."
In order to understand the luxury travel market better, Unity Marketing offers a trend report, Affluent Consumers and Their Travel Plans 2013, that looks at the motivations and behaviors of the affluent consumers when they make travel plans, including a detailed analysis of the attributes they look for in a travel service provider.
For more information on the luxury travel customer, their needs and desires contact Pam Danziger at 717.336.1600 or email pam(at)unitymarketingonline(dot)com.
About Pam Danziger and Unity Marketing
Pamela N. Danziger is an internationally recognized expert specializing in consumer insights for marketers targeting the affluent consumer. She is president of Unity Marketing, a marketing consulting firm she founded in 1992. Pam received the Global Luxury Award for top luxury industry achievers presented at the Global Luxury Forum in 2007 by Harper's Bazaar. Luxury Daily named Pam to its list of "Women to Watch in 2013."
Pam's latest book is Putting the Luxe Back in Luxury: How new consumer values are redefining the way we market luxury (Paramount Market Publishing, 2011). Her other books include Shopping: Why We Love It and How Retailers Can Create the Ultimate Customer Experience, published by Kaplan Publishing in October 2006; Let Them Eat Cake: Marketing Luxury to the Masses-as well as the Classes, (Dearborn Trade Publishing, $27, hardcover) and Why People Buy Things They Don't Need: Understanding and Predicting Consumer Behavior (Chicago: Dearborn Trade Publishing, 2004).