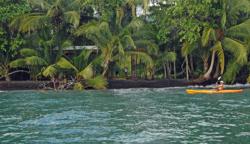 "I was privileged to host a wonderful 'Alive With Yoga' Yoga Vacation here. It was all, plus more, than I could have hoped for" - Cathy Daley, Retreat Organizer on Trip Advisor.
Golfo Dulce/Osa Region, Costa Rica (PRWEB) June 15, 2013
Playa Nicuesa Rainforest Lodge, nestled between the tropical waters of the Golfo Dulce and the lush rainforest of southern Costa Rica, is looking for partners in the retreat /wellness workshop business that wish to host unforgettable retreats at this natural ecotourism boutique resort and wellness center.
Playa Nicuesa Rainforest Lodge, a 165 acre preserve situated in the pristine tropical rainforest
of southern Costa Rica, offers a unique and transformational location for wellness retreats of all types.. Workshop attendees are surrounded by the sounds of toucans, monkeys, and vibrant wildlife in the rainforest, along with the soft lull of the ocean's waves. Lodge is reachable only by boat, which assures the privacy required for a workshop to effectively inspire the spirit, creativity, and harmony of an eco-friendly and relaxed experience.
Retreat Partner can be group leaders, wellness centers or other workshop intermediaries. Special rates are provided exclusively to workshop/retreat organizers; which include a daily nature tour selection and 3 delicious meals every day for all guests. Premises may be rented for large groups of up to 28 guests requiring whole-lodge access; or for small groups of up to 17 guests with lodge open for other guests to stay at the lodge during the workshop period. The lodge has extensive experience supporting the execution of wellness retreats, and their staff handles all operational details so that the organizer may focus on the marketing of their retreat and achievement of their own workshop goals.
Interested parties are invited to visit their website for full details (http://Retreats.NicuesaLodge.com), and contact Playa Nicuesa Rainforest Lodge in order to obtain further information [call toll-free: 866-504-8116 or email us: workshops(at)nicuesalodge(dot)com].
Complimentary lodging for familiarization-trips are available for retreat organizers interested in viewing the site before scheduling their workshops at Nicuesa Lodge.
View the full review made by Cathy Daley, Yoga Retreat Organizer, on Trip Advisor; May '13 >