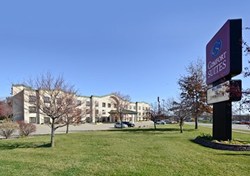 Chicago, IL (PRWEB) June 14, 2013
Paramount Lodging Advisors (PLA) acted as the exclusive advisor to LNR Partners and is pleased to announce the sale of the 93-room Comfort Suites located at 2620 South Dirksen Parkway in Springfield, IL. The hotel opened in 1995 and benefits from its proximity to Interstate 55, allowing the property to capture both transient and corporate business.
PLA's Brent Clemens and Bennett Webster worked collaboratively to represent the seller. "We were very pleased with buyer turnout and commitment to the asset within just a 35-day marketing window," noted Clemens. Webster added, "the strong buyer count continues to be indicative of buyer confidence in well located limited / select service product in diversified, core secondary markets – particularly state capitals such as Springfield." The transaction marks PLA's fifth successful Auction.com engagement in the last four months.
Paramount Lodging Advisors is a hotel advisory and brokerage firm specializing in the acquisition, asset management, debt and equity placement, and disposition of hospitality assets across the United States, Canada, & London. For more information about Paramount Lodging Advisors, please visit http://www.paramountlodging.com.