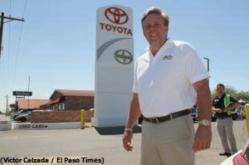 El Paso, TX (PRWEB) June 13, 2013
Dick Poe Toyota recently announced that construction is to begin on their new showroom and service and parts facility in September of 2013. They recently purchased 3.8 acres located at 6400 Montana Avenue in El Paso, Texas where a defunct 90-room Travelodge motel stands. The motel, along with another empty building located next to the motel, will be demolished to make way for the new showroom. This expansion will add an additional 3.8 acres, increasing the size of the Dick Poe Toyota automotive complex to almost seven acres.
Dick Poe Toyota has operated on Montana Avenue in El Paso for over 30 years and has been located at 6330 Montana Avenue for about 10 years. General Manager John Luciano explains, "We are selling 300 new and used cars a month, our wait times in our service department run longer than we want them to and we need more room to breathe." The current buildings will be transformed in to a quick maintenance center for services such as oil changes and other services. The expansion as a whole will be designed to help Dick Poe Toyota better serve its current customers and attract new customers with its larger, more modern facility. Dick Poe Toyota has considered relocating to a larger facility before the hotel property became available, but as Luciano states, "Based on the market and changes in the car business we wanted to stay in Central El Paso (Texas) where people know us," and keep their close proximity to Fort Bliss. The completion of the expansion is set for August of 2014.
Dick Poe Toyota in El Paso, Texas has a long history of not only providing for all the automotive needs of the people of the El Paso, Texas area, but giving back to the people of the community as well. Through a variety of events throughout the year, Dick Poe Toyota is able to contribute tens of thousands of dollars to organizations benefitting programs at Fort Bliss and other charities and organizations in the El Paso, Texas area. For more information about Dick Poe Toyota, located at 6330 Montana Avenue in El Paso, Texas you can visit their website at http://www.DickPoeToyota.com or reach them by phone at 866-740-8021.