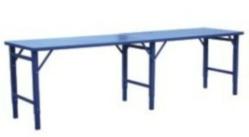 (PRWEB) June 17, 2013
For those A Plus Warehouse friends that are not aware, it is approaching summer. What better way to start off summer than offering a 5% discount on all workbenches. It is a summer spectacular. Customers love our work benches, and so will the reader of this article. This is because the company has many options to choose from. This article will go into a bit of detail about some of the wonderful work benches A Plus Warehouse has to offer.
A Plus Warehouse is the only company in the world to offer the Pink Elephant Work Bench line. It is very unique to have a pink work bench but we have them here at A Plus Warehouse. The pink color is a very attractive color. Some of the items in the A Plus Warehouses Pink Elephant line also comes with Black Alpha Drawers. This makes for a very attractive work bench. The items in the Pink Elephant line include Prink Elephant Work Bench with Alpha Drawers on the Left, Pink Elephant Work Bench with Alpha Drawers on the Right, Pink Elephant Work Bench with Black Shelf, Basic Pink Elephant Work Bench, and Pink Elephant Workbench with Alpha Drawer and Riser with Pegboard. All products in the Pink Elephant line is shipped all welded with 12 GA steel top. It is also available in 9 different sizes. Best of all, they are all made right here in the U.S.A.
Another favorite is the Black Tie Work Benches. The Black Tie Work Bench is in stock for immediate delivery. Similar to the Pink Elephant, this is also a very attractive workbench. A Plus Warehouse suggests that this would be excellent for factories and distribution centers. For convenience, this work bench also comes fully applied. The full appliance unit includes legs, top, stringer, a lower shelf, riser back, end stops, and a drawer as well. This is a great value. Although if wanted, A Plus Warehouse can also provide a Black Tie Work Bench with just legs, top, and a stringer. Many options are available with the Black Tie Work Bench. Customers can choose between 12 GA steel top, shop top, or even laminated hardwood.
Finally, the company offers an As Long as You Like It Work Bench. This is a unique work bench that allows a customer to have it as long as they would like it- hence the name. As Long as You Like It Work Benches normally is 12 GA steel top, but hard board mounted to the steel top is also available upon request. These workbenches are also available in a rainbow of colors.
A Plus Warehouse is proud to offer this summer spectacular. A Plus Warehouse hopes that all customers enjoy their summer. A Plus Warehouse is the operator of http://www.apluswhs.com and distributes materials handling and storage equipment nationwide and throughout Canada. The sales staff at A Plus Warehouse is available at 800-209-8798. A Plus Warehouse has been in constant operation since 1996.