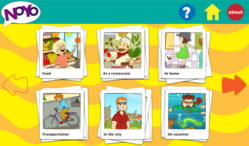 Noyo has integrated assessments into the platform to help students and teachers track student progress, adds Mike Sullivan. C.L.O
Boston, Ma (PRWEB) June 14, 2013
Noyo, a Boston-based educational software company that makes language apps for iPad and Android tablets, is helping to "flip the classroom" by disrupting the way novice language classes cater to young language learners.
The concept of "Flipping the Classroom" is the educational trend made popular by Khan Academy, TED, and many other educational organizations. Using technology, teachers can assign the lecture and rote learning for homework, allowing the classroom to become a place where hands-on project-based learning thrives.
"After listening to feedback from educators around the country," say Chief Learning Officer, Mike Sullivan, "Noyo has integrated assessments into the platform to help students and teachers track student progress."
The new built-in assessment feature now includes the ability to monitor the words that the user has interacted with, check the amount of time spent on each unit, and email your assessment test scores to your teacher with one simple click.
Noyo's intuitive interactive language apps for iPad and Android devices were created with this model in mind. For example, Noyo's popular Noyo Spanish Vocab Builder features over 190 brilliantly illustrated scenes, 1,800 vocabulary words and phrases, and native speaker voiceover for each word and phrase. Students can study vocabulary anytime, anywhere, at their own pace.
Noyo language apps are currently being used in over 125 different countries around the world by teachers, students and parents alike. Noyo currently has apps in Spanish, French, Portuguese, Mandarin Chinese, Hebrew, and English. Apps range in price from Free to $3.99.
Noyo is a Boston-based educational software company dedicated to providing engaging and cost effective language learning tablet apps. Noyo offers language apps for Spanish, French, Portuguese, Mandarin, Hebrew, and English. All apps are created by a passionate team of educators, technologists, linguists, and designers. More information can be found at http://www.noyo.com.