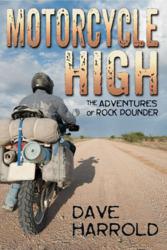 "There is nothing quite like Motorcycle High on the market today," says Viveca Smith, president of the book's publishing company.
"Even though the book is fiction, many of the stories are based on Dave Harrold's true life adventures."
McKinney, TX (PRWEB) June 16, 2013
Dave Harrold has lived a life of adventure. He has raced motorcycles professionally and traveled all over the world on his bike. He recently wrote a fictional account of his latest round-the-world motorcycle trip. Starting in South Korea, riding through Siberia and Mongolia, through Moscow and up to Amsterdam, Dave Harrold has ridden it all. Motorcycle High recounts his lifetime of experiences on the road in one fictional story. With memorable characters and relationships that last a lifetime, Motorcycle High embodies the free spirit of the motorcycle adventure rider. The story fuses action, adventure, and mystery, with real-life quips and comedic encounters and is guaranteed to give readers the ride of their lives.
Motorcycle High is published by Viveca Smith Publishing. The company also publishes children's literature and poetry. Authors include Kornei Chukovsky, Willard Manus, and Aminjon Shookuhi. Visit their website at http://www.vivecasmithpublishing.com. Contact Viveca Smith at vsp(at)vivecasmithpublishing(dot)com
Find out more about Dave, read the excellent reviews, and view the pictures of his round-the-world adventures at http://www.daveharrold.com. Contact Dave at dave(at)daveharrold(dot)com. Motorcycle High is available both as a hardcover and an ebook. Dave is available for interviews and speaking engagements.