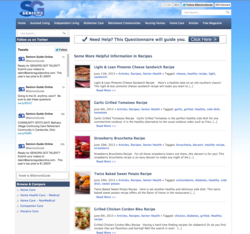 30% of adults age 65+ have looked online for health information.
Richmond, VA (PRWEB) June 19, 2013
As adults begin to age, the topic of health becomes one of importance, and Seniors Guide Online wants to offer the benefits of being an active senior. Seniors Guide has added articles to bring discussion and answer questions about everything from myths about exercising to healthy recipes for those with diabetes, heart disease, and high blood pressure.
SeniorsGuideOnline.com, a resource website for seniors and their families looking for assisted living, retirement communities, nursing homes and home health care, also features resources for the active adult.
By posting these articles, Seniors Guide Online hopes to raise awareness in adults, that maintaining a proper diet and exercise is important. With a focus on healthy aging, SeniorsGuideOnline.com proves to be a resource, not only for seniors, but also for caregivers. "We hope to provide information that is both relevant and interesting," says Katharine Ross, Vice President of Sales & Marketing of Seniors Guide Magazine and SeniorsGuideOnline.com.
"Older adults are more aware now than ever, and are researching online how to age healthily," says Ross.
Part of maintaining a healthy lifestyle involves a healthy diet. Diabetic-friendly recipes for adults with diabetes, along with low-calorie and low-fat meals can be found with easy step-by-step instructions under "Recipes" in the SeniorsGuideOnline.com article library.
Offering a healthy choice and recipes section is new to Seniors Guide Online. Seniors Guide Online is taking these recipes and health oriented articles and pinning them to Pinterest. By doing this, Seniors Guide's Pinterest page has noticed a rise in repins and likes. Many Pinterest users are also following the Recipes Boards.
According to Pew Research Center's Pew Internet & American Life Project (June 6, 2013), "30% of adults age 65+ have looked online for health information." Pinterest is a resource for them to find this information. It allows them to pin the articles and recipes they find useful and informative, and when they click on these pins, it takes them directly to Seniors Guide Online. From there, they are able to browse the website and find more recipes, articles, and health tips that they are interested in.
Seniors Guide, a Richmond, Va. -based company publishes Seniors Guide magazines throughout Cincinnati, Ohio; Dayton, Ohio; Indianapolis, Indiana; Raleigh-Durham, North Carolina; Richmond, Virginia; and Roanoke-Lynchburg, Virginia and features a correlating website of SeniorsGuideOnline.com. Seniors Guide's mission is to help seniors and their families find the information they need on options available in senior housing, senior care, assisted living, independent senior living, retirement communities and other retirement living needs. Seniors Guide also has resources at http://www.HomeCareChoice.com for Cincinnati, Ohio; Dayton, Ohio; Raleigh-Durham, North Carolina; and Richmond, VA. Ross Publishing, Seniors Guide's parent company, began in 1991 and has been publishing helpful, free publications and websites ever since.