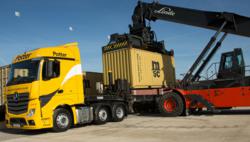 Selby, Yorkshire (PRWEB UK) 17 June 2013
The Container Management Module for CALIDUS WMS interfaces with the warehouse management software to manage ISO containers that arrive daily by rail and road at the company's 62-acre distribution centre and rail freight terminal in Selby, Yorkshire.
The Container Management Module controls all of the unloading and loading activities in real time over a high-speed 150 mbit/s backhaul mesh wireless network. The containers are stored according to dispatch date and some may remain at Selby for several days before they need to be dispatched.
The Container Management module ensures the accuracy of placing the right container on the right road vehicle or rail wagon. As with all OBS Logistics solutions, this paperless system is easy to use and cost effective having only two parts: a desktop computer system in the site's weighbridge office to manage movements of the containers and booking in lorry drivers, and large in-cab touchscreen radio-data terminals for the container handler drivers.
The fully electronic system eliminates paper documentation, directing the container handler drivers through their shifts and ensuring containers are stored and loaded accurately. The system also captures road vehicle drivers' signatures for proof of receipt of the containers.
Editors' note
Potter Logistics uses CALIDUS WMS warehouse management software to help manage its national distribution centres in Ripon, Selby, Droitwich, Knowsley and Ely. The system is a major investment in enterprise-level technology that helps the company provide its customer service offerings.
For more information contact
Kathryn Howarth, Group Marketing Manager, OBS Logistics Ltd (part of the Anisa Group): kathryn.howarth(at)anisagroup(dot)com, tel: +44 (0)151 448 2972
About OBS Logistics
OBS Logistics (OBSL) provides best of breed warehouse management software and transport management software, including hosted solutions, for managing supply chain operations. The CALIDUS Total Logistics solutions are in use across EMEA and AsiaPac to integrate and streamline logistics management processes end-to-end, and provide true visibility across supply chain operations.
About Potter Logistics
Founded by Derrick Potter in 1965, Potter Logistics is a family run business employing around 300 staff. The company provides specialist logistics solutions focusing on the chemical, agricultural, pharmaceutical and food industries. Potter Logistics operates six distribution centres located in Droitwich, Ely, Knowsley, Ripon, Selby and York.
Head Office: Potter Logistics, Melmerby Industrial Estate, Green Lane, Melmerby, Ripon, North Yorkshire HG4 5HP