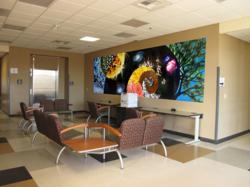 "It has been truly exciting to create a mural for an audience with similar interests to my own, people interested in math, science, and beauty and how they fit together," says Artist Cathy Rowe
Rocklin, CA (PRWEB) June 14, 2013
Sierra College unveils a new permanent mural at the Rocklin Campus on Monday, June 24. Local artist Cathy Rowe was chosen from a large pool of applicants to create this work of art for the Sierra College Math Department to be installed in the V-Building, a Math and Technology center. The mural focuses on the beauty of mathematics in the natural world.
Artist, Cathy Rowe was born in Sacramento, California, in 1984. She is a muralist, illustrator, and gallery artist. The painting she has created for Sierra college is dominated by a spiral shape (known in the math world as a Fibonacci Spiral). The colorful images contained in the spirals are examples of how math rules the natural world (both big and small) in beautiful ways. "I have done murals for a lot of local public schools in the Roseville area, which is always a lot of fun. But it has been truly exciting to create a mural for a different audience with similar interests to my own, people interested in math, science, and beauty, and how they fit together," says Artist Cathy Rowe. Her website cathyrowe.com highlights some of her best work in paintings, murals, and illustration.
Math Professor Jill Rafael states, "Cathy Rowe's, design combines the power and beauty of mathematics within nature. This is truly an inspiring work of art. We are certain that it will inspire for years to come."
The Sierra College Rocklin Campus is located at: 5000 Rocklin Road, Rocklin, CA 95677. For more information regarding this project, contact Jill Rafael at: jrafael(at)sierracollege(dot)edu or Casey O'Connor at: coconnor(at)sierracollege(dot)edu.
Sierra College provides a challenging and supportive learning environment for students having diverse goals, abilities, and needs interested in transfer, career and technical training, and life long learning. The College's programs and services encourage students to identify and to expand their potential. Sierra College students will develop the knowledge, skills and abilities to become engaged and contributing members of the community.