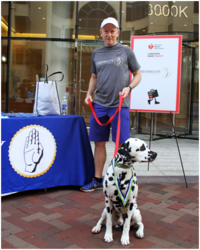 Credibility International has supported Lawyers Have Heart every year through sponsorship, fundraising and volunteer time.
Washington DC (PRWEB) June 14, 2013
Forensic accounting firm, Credibility International, again in 2013 sponsored the Lawyers Have Heart 5k and 10k run and 3k fun walk to benefit the American Heart Association. Nearly 5,000 runners and walkers participated in this important fundraiser on Saturday, June 8, 2013 on the Georgetown waterfront.
Credibility International has supported Lawyers Have Heart every year through sponsorship, fundraising and volunteer time. "Lawyers Have Heart is a great event that brings out the Washington legal community to raise money for the important work of the American Heart Association. With the rising cost of healthcare in our nation, the work of the American Heart Association in promoting healthy lifestyles is critical to fighting heart disease, stroke, and our growing problem of obesity," says Tim Hart, Founder of Credibility International. "Lawyers Have Heart already has raised over $750,000 in 2013 with the hope of raising even more money before the final accounting for this year's event. At Credibility, we are pleased to be able to team with Washington's legal community to provide this important financial support to help fight heart disease and to stage a great event for Washington's runners."
If you would like to support the American Heart Association through the Lawyers Have Heart event, please go to our donation page:
http://www.lawyershaveheartdc.org/faf/donorReg/donorPledge.asp?ievent=1057075&lis=1&kntae1057075=EF4F1F311EB340088BC44C0A2CBE4EBB&supId=0&team=5489366
About Credibility International
With expertise in forensic accounting and finance, Credibility International has professionals in Washington, Chicago and San Francisco who are CPAs, fraud examiners and valuation professionals. Tim Hart has once again been recognized this year by Who's Who Legal as one of the top expert witnesses in international arbitration. The Credibility team has native language capabilities in Russian and Spanish. For more information visit http://www.credibilityinternational.com/