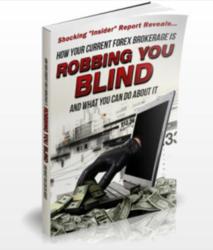 Although the broker may lead a client to believe otherwise, computer freezes are often the broker's clever way of buying time in a situation where every second counts.
Napier, New Zealand (PRWEB UK) 14 June 2013
Forex traders who have a sneaking suspicion that their broker isn't playing it entirely straight with them may be on to something. According to a new insider trading report by the Forex trading platform TraDesto, foreign currency brokers employ all kinds of schemes—some of them on the up and up, others not so much—to maximize their own profits at the expense of their clients' earnings. Titled FX Exposed, this special report reveals the top eight ways in which Forex brokerages are robbing their clients blind.
Topping the list of ways in which Forex traders' profits are being skimmed by their brokers is a strategy that originates from the brokerage end but can easily be blamed on the trader's trading platform. As a result, it is probably the most insidious, not to mention frustrating, of the insider moves revealed by the FX Exposed report. Think a bad computer is to blame for all those platform freezes that occur in the midst of trading? Turns out, it's probably not.
"More inexperienced traders may well assume that the freeze was down to an issue at their end," explains FxExposed.com spokesperson Markus Brown. In reality, however, such freezes are merely the broker's clever way of buying time in a situation where every second counts.
The trickery doesn't stop there tough. The number two way in which Forex brokers are taking financial advantage of their clients has to do with commissions. On the surface, one might think that a commission free brokerage is the way to go, but one must bear in mind that such brokers have to generate income somehow. And guess how they are doing it?
According to the new FX Exposed report, they are speculating on the bid/sell spread instead, resulting in the client hitting his/her take profit level much more slowly. "The reality is, commission is a good thing, and a lot better than wider spreads," stresses Brown.
These two insider trading secrets of the Forex brokers are just the tip of the iceberg when it comes to the creative means they are utilizing to skim the profits right off the top of their customers' returns. The free special report from FxExposed.com provides further insight into these two schemes along with six others that are seriously undermining foreign currency traders' ability to enjoy the profits they deserve.
For more information on how to spot and avoid the profit-skimming scams most often implemented by Forex brokers, download a free copy of the FX Exposed report at http://TruthAboutFX.com/fxexposed. To learn more about how to maximize foreign currency investment profits via TraDesto's new social trading platform, contact Markus Brown at pipsblueprint (at) gmail (dot) com.