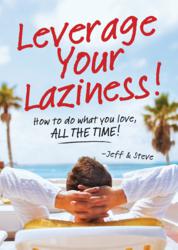 Shippensburg, PA (PRWEB) June 14, 2013
It's that time of year again. Beach, BBQ's, sun shine and sun burn. To celebrate the start of summer, The Long Beach Chamber of Commerce will host its "Summer Blast" event on June 20, 2013 at 7:00 P.M. at the new Sands restaurant, club and bar in Atlantic City, NJ.
In conjunction with this fun event, Sound Wisdom Publishing author, Jeff Goldberg, has teamed up with the Chamber. An autographed copy of his book, "Leverage Your Laziness," will be offered to everyone who enters their name into the raffle drawing. Goldberg will be at the event and will sign books as they are given away.
The raffle will consist of prizes donated by local merchants and all proceeds go towards the beautification of the West End Mall Sign.
During this event, there will be live music, a full buffet and an open bar. Tickets are $49.00 in advance and $55.00 at the door.
Sound Wisdom Publishing is a subsidiary of Destiny Image, located in Shippensburg, PA.
"We break the mold of the traditional publishing industry by creating long-term relationships with our customers, authors, and team members. We don't follow. We lead with new levels of creativity, focus, and determination. Thinking outside the box isn't just a phrase we use, but an everyday thought process that flows through our entire company. Continuous customer communication allows us to listen and respond to the needs of our clients, customers, and community. We are your publishing partner for the present and the future."