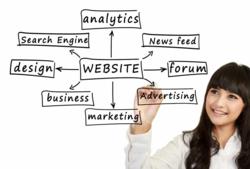 Magento website development can be had for up to a 50% discount from Blitz Publicity Marketing in the month of June 2013.
Miami, FL (PRWEB) June 13, 2013
Huge savings can be enjoyed during the month of June 2013 when any individual or business purchases a e-Commerce website requiring Magento website development from Blitz Publicity Marketing.
Functional and well executed Magento websites get results. They are a selling tool that works for your day and night across multiple marketplaces and geographic locations. With customized graphic design, interactive and engaging content and user-friendly features, your Magento website will convert more browsers into customers.
Magento website pricing at Blitz Publicity Marketing is surprisingly affordable and will with the costs for expert design rapidly declining. In the past, only large companies could afford to hire designers. Now even small businesses can have sites that compete with national chains.
In the wrong hands, Magento development can either drive sales traffic, or turn prospects away in mere seconds. The right Miami website design company will turn your website into a direct window into your organization. Blitz Publicity's staff have the skill, experience, and vision to develop a website that is as intuitive as it is beautiful.
Robert Hadland of Blitz Publicity Marketing says, "We are pretty excited to offer local business owners the opportunity to have an expertly designed and promoted website at a fraction of the traditional cost."
"It's not enough that you just have a website. You must have a professional-looking site if you want to be taken seriously. Since many consumers now search for information online prior to making a purchase at a brick-and-mortar store, your site may well be the first, or last, chance you have at making a good impression on a potential buyer.
To learn more about how our Magento development team leverages Magento website designs to deliver profitable results please visit http://www.BlitzPublicity.com or call 954-271-1140.