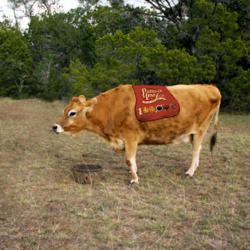 Dallas, TX (PRWEB) June 24, 2013
In June, Promised Land Dairy's Facebook page achieved 100,000 "Likes." The page reached this major milestone after just two years on Facebook. At the Facebook page's inception, Promised Land Dairy milk was being distributed in less than 3,000 stores across the Southwestern region of the US. Since then, Promised Land Dairy has expanded towards the Midwest and Mid-Atlantic regions. Now, Promised Land Dairy milk can be found on the shelves of almost 4,000 stores throughout 29 states and 1,069 stores are in the works for this fall.
Promised Land's Facebook page has been used to announce and familiarize their audience with a host of new flavors, including Chocolate Egg Nog and Cookies' N Cream as well as remind fans of limited edition flavors, like Easter Egg Nog and Double Cream White Chocolate. To promote consumer interaction, Promised Land Dairy rewards fans of the page with activities like product surveys and Facebook sweepstakes for branded prizes. The page has become a community hub and a place where fans can ask questions and receive real-time answers.
Since the Facebook page's creation Promised Land Dairy has also introduced a brand new website, http://www.promisedlanddairy.com, with features like a store locator, blog, barnyard fun and the opportunity to sign up for "Moo-Mail" email newsletters that always include extra savings, along with a Moo-Pon coupon.
Promised Land Dairy began as a local family farm in Texas. Since the beginning they have worked hard to produce Jersey cow milk, a richer, creamier alternative to traditional dairy cow milk, packed with more protein and calcium, without the artificial hormones and antibiotics. Today, their premium, all-Jersey milk is available in 29 states through quality grocery companies. Products include all natural white milks, flavored milks, and cream products. For a map of store locations and more information, visit the Promised Land Dairy website or join them on Facebook. The Promised Land Dairy Twibbon microsite is a place where users can support this fan milestone by creating a custom Facebook Profile photo, uploading a celebratory Facebook cover, or sharing with others through social media posts.
The Promised Land Dairy Facebook page was created and managed by Launch Agency. Launch is a Dallas- based, full-service advertising agency nationally recognized for award-winning creative work and for competitively positioning and marketing both fast-growth and mature companies.