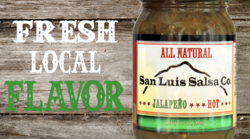 "I felt that we needed a livelier, more colorful site that included shopping cart functionality for online purchasing," said Torri Simons-Holdener
San Luis Obispo, CA (PRWEB) June 15, 2013
San Luis Salsa Company is pleased to announce the launch of its new website http://www.sanluissalsacompany.com/. The launch coincides with the company's introduction of a feisty new Medium salsa that blends its Original Mild salsa with its heat-packing, Habanero Hot salsa.
The revamped website offers a fresh, contemporary look and an improved user experience. It features direct online purchase of the company's handcrafted Central Coast salsa blends, an expanded recipe section and all new gift packages.
"I felt that we needed a livelier, more colorful site that included shopping cart functionality for online purchasing," said Torri Simons-Holdener, a San Luis Obispo native and owner of San Luis Salsa Company.
After attending an online marketing presentation offered by Access Publishing, Torri hired the San Luis Obispo web design and search engine optimization firm to redesign, rebuild and maintain her company website.
"From the moment I first sat down with them, I felt like they got what I was trying to do," Torri explained. "They're open to all my ideas and provide excellent customer service."
As sales continue to grow Torri says San Luis Salsa Company customers can look forward to continued improvements to the website and additional offerings from the expanding brand.
"Cooking is my first passion," Torri said whose foodie family includes a restaurateur and a local winemaker. She started making her salsas for parties and was soon offered shelf space in a friend's market. "That was in 1997 and it took off from there," she explained. Today her salsas can be found in local Albertsons, Food 4 Less and Spencers Fresh Markets, as well as gourmet shops and wineries.
San Luis Salsa Company, P.O. Box 5343, San Luis Obispo California 93403, (888) 657-7275.