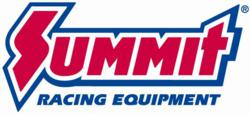 Tallmadge, OH (PRWEB) June 15, 2013
Summit Racing now offers Holley's new Terminator EFI Systems, Scorpion LS Race Series Roller Rocker Arms, and Summit Racing-Brand True Roller Timing Chain Sets.
HOLLEY TERMINATOR EFI ENGINE MANAGEMENT SYSTEMS
Switch from carburetors to EFI the easy Holley way and enjoy better drivability and throttle response. The Terminator's ECU self-tunes instantly to deliver the perfect air/fuel mixture in real time for optimized fuel economy and power—no laptop required. The system fits most square-bore, four-barrel carbureted intake manifolds.
More Information and High Resolution Image
SCORPION LS RACE SERIES ROLLER ROCKER ARMS
Made in the USA, the LS Race Series rocker arms are a direct bolt-on for factory LS cylinder heads.CNC machined from billet aluminum, the full body rockers can handle cams up to .950 inch lift and clear valve springs up to 1.625 inches in diameter.
More Information and High Resolution Image
SUMMIT RACING TRUE ROLLER TIMING CHAIN SETS
Summit Racing's True Roller timing sets have rugged double-row chains and steel crank and cam sprockets. The crank sprocket has three keyways—4 degrees advanced, 4 degrees retarded, and normal—to help dial in perfect cam timing. Available for Chevy, Ford, Mopar, Pontiac, and Olds V8.
More Information and High Resolution Image
Summit Racing Equipment
SummitRacing.com
1-800-230-3030