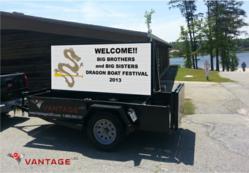 "The bright LED Sign was the perfect way to promote the event." Dianna Glymph, Big Brothers Big Sisters of Central GA.
Macon, GA (PRWEB) June 17, 2013
The history of dragon boat racing dates back 2,400 years to China. Qu Yuan, a political Chinese poet, sacrificed his life to the Milou River after his exile. Local fisherman raced in their boats to save him. They splashed the water with their oars and beat drums wildly to ward off hungry fish and water dragons. This year, hundreds of willing participants splashed their oars and banged their drums in Lake Tobesofkee in Macon, GA for the Annual "Heart of the Dragon" Festival. The dragon boat race was held to raise money and awareness for Big Brothers Big Sisters of Central Georgia. The Georgia Sales Team for Vantage LED was on-site with their mobile LED Sign trailer to promote awareness and welcome participants and spectators.
"The bright LED Sign was the perfect way to promote the event and welcome all of the Dragon Boat racing participants as they entered the venue," stated Dianna Glymph who chaired the race event.
David Bittenbender from the Vantage LED Georgia Sales Team was at the event to help setup and operate the mobile sign which showcased brilliant dynamic messages with race information, welcome animations, sponsors, and event updates. Vantage LED is a U.S. based manufacturer of LED Signs in Corona, CA.
Ms. Glymph added, "We were so pleased that David Bittenbender was able to provide the mobile LED Sign to promote our Dragon Boat Race."
For 60 years, Big Brothers Big Sisters of the Heart of Georgia has matched carefully screened volunteers with local children in caring, supported mentoring relationships. In 2012, 921 children in Central Georgia were matched with a Big Brother or Big Sister. Their programs focus on the most vulnerable youth in the Georgia community— children of incarcerated parents, children of Hispanic heritage, teen fathers in Houston County, and youth at risk of truancy and delinquency.
Main fundraising events, like the Dragon Boat Races, are critical in raising money and increasing awareness to keep Big Brothers and Big Sisters supporting and mentoring the lives of Georgia children.
"We want to thank David and Vantage LED for going out of their way to help us promote our main fundraiser of the year for Big Brothers and Big Sisters of Central Georgia," Ms. Glymph exclaimed.