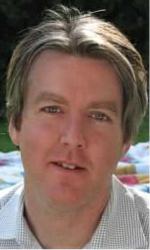 "His insightful critiques highlight the responsibility and opportunities that await our graduates as they design and build innovative spaces that encourage sustainable living and healthier communities," said NSAD President Steve Altman
San Diego, Calif. (PRWEB) June 13, 2013
NewSchool of Architecture and Design(NSAD) announced that acclaimed architecture critic Christopher Hawthorne of the Los Angeles Times will deliver the keynote address at NSAD's 28th annual commencement ceremony on Saturday, June 22, at the Salk Institute for Biological Studies in La Jolla, Calif. About 140 graduates of the school's design-related programs will participate in the ceremony.
"As a critic with the Los Angeles Times, Christopher Hawthorne has experience evaluating many of the world's most notable architecture projects," said NSAD President Steve Altman. "His insightful critiques highlight the responsibility and opportunities that await our graduates as they design and build innovative spaces that encourage sustainable living and healthier communities."
Hawthorne is the architecture critic for the Los Angeles Times, a position he has held since 2004. He has also been a columnist for the Los Angeles Times Magazine. Before coming to the Times he was architecture critic for Slate and a frequent contributor to the New York Times. His work has also appeared in The New Yorker, the Washington Post, Metropolis, Architect, Domus, I.D., Print, Landscape Architecture Magazine, and Architectural Record, among many other publications. He is the author, with Alanna Stang, of The Green House: New Directions in Sustainable Architecture, published by Princeton Architectural Press, and has contributed chapters to several books on art, architecture, and design, including Maynard L. Parker: Modern Photography and the American Dream, edited by Jennifer Watts (2012, Yale University Press).
Hawthorne grew up in Berkeley, California, and is an honors graduate of Yale University, where he studied political science and architectural history. He has taught at Columbia University, the UC Berkeley Graduate School of Journalism, and Occidental College. At NSAD's graduation ceremony, he will address a graduating class that includes the school's first graduates from its Bachelor of Construction Management program. The class also includes students from NSAD's Bachelor of Architecture and Master of Architecture programs, its online Master of Construction Management program and its Bachelor of Digital Media Arts program. Students who earned a Master in Landscape Architecture will also graduate.
Members of the public are invited to meet the graduating architecture and design students and view their final thesis projects during the NSAD Student Thesis Exposition at the NSAD campus the day before graduation on Friday, June 21. The event, which lasts from 5:30 p.m. to 7:30 p.m., is free and open to the public.
NSAD's curriculum stresses sustainability, creating interactive urban environments, and preparation for professional practice. Through its collaborations with other schools in the Laureate International Universities network, such as the award-winning Domus Academy in Milan, Italy, NSAD provides students with the skills to practice in a global and diverse world and offers interdisciplinary educational opportunities in design-related fields, such as a new Bachelor of Interior Design program.
About NewSchool of Architecture and Design
NewSchool of Architecture and Design (NSAD), founded in 1980, is located in San Diego, California. For the past two years, DesignIntelligence has ranked NSAD among the top 10 undergraduate architecture schools in the western United States in its publication "America's Best Architecture & Design Schools." NSAD is accredited by the Accrediting Council for Independent Colleges and Schools (ACICS), a national accrediting agency recognized by the U.S. Department of Education and the Council for Higher Education Accreditation. NSAD's Bachelor of Architecture, Master of Architecture and Executive Master of Architecture programs are accredited by the National Architectural Accrediting Board (NAAB). NSAD also offers a pre-professional Bachelor of Arts in Architecture, along with a Bachelor of Science in Digital Media Arts, a Bachelor of Science in Construction Management, a Master of Construction Management and a Master of Science in Architecture. The school's expanding global design education offerings include a new Bachelor of Interior Design program available in 2013–2014. For more information, visit http://www.NewSchoolArch.edu.