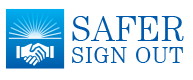 Collierville, TN (PRWEB) June 27, 2013
The Emergency Medicine Patient Safety Foundation (EMPSF) in collaboration with LifeWings - an EMPSF innovation partner- implements the Safer Sign Out protocol to help reduce risk, increase effectiveness and improve clinician and patient satisfaction across the country.
Emergency doctors and medical teams function in a hectic environment where adrenalin runs high and the fast pace reactions can lead to fumbled transitions of care. That is why recently a group of emergency physicians launched a website offering free tools designed to standardize the patient handoff process to reduce the risk of harmful communication errors.
About half of the so called sentinel events, which is an unexpected occurrence involving death or serious physical or psychological injury, involve errors that occur during handoffs during the patient's care, according to The Joint Commision. "The problem is pronounced in the fast-moving arena of emergency care, where noisy environments, frequent interruptions and high acuity patient loads combine to make handoffs a hazardous endeavor," said Drew Fuller, MD, MPH, an emergency physician in Germantown, MD.
LifeWings specializes in helping medical teams create and implement customized checklists to protect patients from harm and increase patient safety initiatives. The key to the handoff protocol is the Safer Sign Out Form. This is a quality assurance tool, in addition to the medical record, that serves as a checklist for the physician whose shift is ending to complete and handoff to the physician taking over the shift. The doctor's document patient diagnoses, key issues, potential safety concerns and any other pending items. The physician signing out asks the doctor coming on shift the open ended question "What questions do you have?" to promote a thorough discussion of the patients condition.
The doctor is then encouraged to make rounds to the bedside of each patient and discuss the plan of care with the nursing staff. This communication with the nursing staff is vital because it builds teamwork and gives the nurses the opportunity to provide critical updates that the physicians might not otherwise be aware.
The Safer Sign Out is a patient centered, team-based innovation developed by emergency physicians to improve the safety and reliability of end of shift patient handoffs. Go to http://www.SaferSignOut.com to get more information on education, implementation, access to tools, and further innovation. And get coaching assistance from LifeWings on how to implement Safer Sign Out in Emergency Departments. http://www.SaferPatients.com