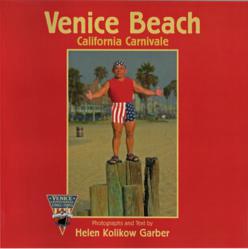 The official commemorative book of the Venice Beach Centennial
Venice, CA (PRWEB) June 14, 2013
We are pleased to announce that Venice Beach, California Carnivale is now available as a downloadable E-Book. The print edition paperback was the first print-on-demand picture book sold by Barnes and Noble, was the official commemorative book of the Venice Centennial and won an International Photography Award when first published in 2005.
Venice Beach, California Carnivale captures the joyous carnival atmosphere of Ocean Front Walk at world famous Venice Beach. Helen K. Garber, internationally renowned fine art photographer, has digitally captured, color enhanced and manipulated the images to give the viewer the full surreal experience of strolling along Ocean Front Walk at Venice Beach, California.
Ms. Garber moved her fine art studio to world famous Ocean Front Walk in 2004. She lives nearby in Santa Monica and would walk to the studio along Ocean Front Walk with her Springer Spaniel, Dudley.
She decided to document and publish a book on the visually exciting Ocean Front Walk. She also wanted to embrace the monumental changes that were starting to affect both the book publishing and photographic industries.
Ms. Garber and Dudley would wait for golden light and document whatever crazy thing captured her attention while they walked together along Ocean Front Walk. She was using a dslr that Samy's Camera had lent her, capturing images on a memory card for the very first time and no longer had to worry about the huge expense of film, developing and scanning.
Ms. Garber edited the book and manipulated each image to direct the focus of the viewer. She decided to forgo trying to find a traditional publisher and was the first photographer she knew to self-publish digitally. She had planned to distribute the book by having the cover subject sell the books at a table with the other vendors on tourist-filled Ocean Front Walk.
Unfortunately Ms. Garber's cover subject left town abruptly and she ended up driving to the many west side Los Angeles book stores to sell copies of her book. The local independents loved it.
At first the manager at the local Barnes & Noble said it was against company policy to purchase print-on-demand books, but Ms. Garber persevered, contacted the regional buyer, who then purchased 200 copies directly from Xlibris. Which in turn made Venice Beach, California Carnivale the first print-on-demand picture book ever sold at the then predominant bookstore chain.
Coincidentally, the 2005 Venice Centennial festivities were in preparation and the committee chose Ms. Garber's book as the official commemorative publication of the Centennial.
Nine 1/2 years later, Ms. Garber still works out of her beautiful studio on Venice Beach, Dudley is still with her, but now at almost 16, stays at home with his younger bunk mate, Oliver, while Ms. Garber rides her bike back and forth to the studio. She still runs outside her studio to shoot when the light is wonderful, but more likely walks right past Ocean Front Walk to capture gorgeous waves, skies and wild bird life at the water's edge.
Helen K. Garber is an internationally renowned fine art photographer with work in permanent collections of museums, corporate collections and prominent personal art collections in the United States and abroad. Her work has been exhibited in the United States, Italy, Greece, England and Ireland with images published in many photographic magazines, journals and books. She teaches photography through Otis College of Art and Design in Los Angeles.