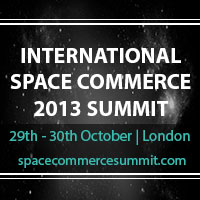 It's an IRN Summit!
London (PRWEB UK) 14 June 2013
Bas Lansdorp, CEO of Mars One, Karin Nilsdotter, CEO of Spaceport Sweden and Chad Anderson, Director of European Operations, Space Angels Network will form part of the speaker faculty at the International Space Commerce 2013 Summit taking place on 29th-30th October 2013 in London alongside many other associations and companies.
Organised by global summits organiser, International Research Networks, the comprehensive two day agenda is designed to bring together both the public and private organisations to discuss the way forward for commercial activity in space. The contribution of the space sector to the UK economy in 2010-2011 totalled approximately £9.1 billion and the government's ambition of the size of the sector in 2030 is an estimated £40 billion. Given the UK's emerging space sector and the increased interest to fuel commercial activity in space, this will be an exceptional forum to connect the business leaders, associations, Government, investors and of course companies who supply the industry with the equipment and technology to sustain developing space in a commercial capacity.
The agenda will cover a wide variety of topics in relation to the commercial development of space including legal and regulatory issues, investment opportunities, reducing the cost of space transportation vehicles, suborbital spaceflight and insurance challenges among many others.
Presentations will be given by senior-level representatives from the Economic Policy Centre, Atrium Space Insurance Consortium, London Institute of Space Policy and Law, SpaceX, Czech Space Office, German Aerospace Centre, International Association of the Advancement of Space Security, Centrum Badan Kosmicznych, Astrobotic, COMSO Spaceland and the Technology Strategy Board.
More information can be found at: http://www.spacecommercesummit.com.