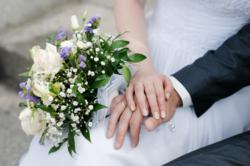 Newport Beach, CA (PRWEB) June 14, 2013
While the focus of a wedding day is on celebrating the love and happiness shared between the bride and groom alongside family and friends, it's also the day the couple starts their new life together. With that new start usually comes gifts from the wedding guests to help the couple get off on the right foot. But some guests end up being more about taking than giving.
As evidenced recently by a Pennsylvania woman, not all wedding guests have good intentions. The woman, the "plus one" of an invited guest, was caught in the lady's restroom tearing up several of the newlywed's cards and attempting to flush them down the toilet. The cash and checks from inside the cards were stuffed into her bra. Had she not been caught, the thief would have made off with over $500 of the newlyweds' gifted money.
(http://pittsburgh.cbslocal.com/2013/06/11/police-butler-co-woman-hid-stolen-wedding-money-in-bra/).
Though this may seem like an unlikely occurrence, a couple having to face the reality of filing a police report due to theft at their reception is more common than most realize. And it's difficult for couples to consider it happening to them on such a special day.
"On a day that is supposed to radiate love and loyalty, it is hard for brides and grooms to think that anyone would want to hurt them, especially someone close to them," says Brett Reynolds, CEO of Wedding.com. "But what they are forgetting is that not everyone at their wedding will be someone they are familiar with. Weddings can be full of "plus ones" who neither the bride nor groom knows."
And it's not always the unknown guests who are to blame. Family and friends or even staff from the wedding venue can be the culprit as well.
To avoid spending their reception paranoid about each guest who walks past the gift table, couples are coming up with ways to keep sticky fingers away. From hiring extra security to purchasing wedding insurance, brides and grooms are taking steps to prevent their cards and gifts from being stolen. Other options include using a locked card box or asking a trustworthy family member or friend to watch over the gift table.
However couples choose to protect themselves from wedding gift theft, it is something that is better discussed before the big day in order to make sure the only tears cried on their special day are tears of joy.
About Wedding.com
Wedding.com is an innovative new website that connects engaged couples planning their wedding with wedding vendors looking to grow their business. Wedding.com contacts vendors for couples, giving them the power to compare and negotiate while ultimately saving time and money. With 15,000 couples and 25,000 vendors currently using the website, 150,000 proposals have already been sent since their inception. Vendors range in services from wedding planners, photographers, florists, and DJs to custom invitations, party favors, and much more. For additional information about the company and its services, please visit Wedding.com.