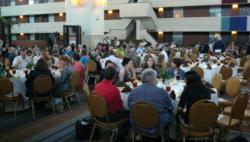 The movement to end modern slavery just moved to a new level.
Nashville, TN (PRWEB) June 18, 2013
A group of attendees and speakers were enjoying dinner on Saturday following the closing of the recent 3rd National Trafficking In America Conference appropriately themed, Creating a Culture Free of Slavery. Yvonne Williams, President of Trafficking In America Task Force recalls, "I felt a nudge on my right and turned to notice a petite young woman, still in her teens." The young woman said, "Mrs. Williams, I just want to tell you that this conference changed my life. I am going to check into becoming an investigator to help track down the traffickers." Similar comments during the recent 3-day event were proof that the Annual Conference continues to touch lives and mobilize people all across the nation that want to do something to end modern slavery.
Creating a culture free of slavery is more than fighting human trafficking. 200+ people came together around a single issue to learn more about what can be done to work to end it. The speakers were as diverse as the 4 seasons. The attendees were as well. Each had come with a different purpose in mind so as to add to what they already might be doing or to begin a new work.
Attendees heard from a survivor, a former pimp, a mother trying to get her trafficked daughter back, an undercover person working in the worst of the worst of human trafficking, five people whose lives had been shattered by pornography addiction and put back together again by the power of love. Then there were the academic presenters who had done the research in their respective areas such as poverty, fatherless homes and the family, victim identification, civic society engagement. And there were those doing hands-on activities such as the FBI, legislative advocates, demand reduction organizations, and activists to change the face of social media to stop trafficking in that venue. Department of Defense and Equal Employment Opportunity Corp also presented on their role in the anti-HT movement. "It was the most intense 3 days I have spent in a long time -- despite knowing what was being presented. It still affected my soul in a major way," proclaimed one of the more seasoned attendees. "Hearing from the former pimp made so much more of an impact than listening to someone present information who had never experienced that kind of lifestyle."
As time approached for Yvonne Williams to present her closing comments, "Nothing I had prepared seemed appropriate," she states. "A whirlwind of thoughts and images had invaded my mind and a great stirring had taken place. Our culture is in need of and at the brink of a major overhaul and many of those that attended realized this truth," said Williams. And this truth came home in a way that she didn't expect. One of the Key Note Speakers, Frank Schaeffer who was purposefully scheduled to open and to close the conference, gave an impassioned summation of the 3-day event. His heart had been ripped open at the reality of Human Trafficking in America. He said it all by concluding that, "Working to end Human Trafficking is an issue that all Americans can agree on and can serve as a uniting tool; that in some strange way can bring us back together as a Nation." He hit the bull's eye! "This is what cultural change is all about," stated Williams. "This is why cultural change must be foundational in the attempt to end modern slavery. We must think about this with every decision we make, every soul that is rescued, every perpetrator that is arrested, every business that engages in slave labor, and every corporation that sends their employees into the throws of poverty in order to garner more and more profits for themselves." Williams ended her comments with, "This is good. This is very good. The movement to end modern slavery just moved to a new level."
The need to create the TIATF-Alliance has never been more obvious. There is a great need for support and over-site for new NGO's and organizations wanting to make a difference in the realm of anti-human trafficking. TIATF has been working on the 5th phase of their mission, to create an umbrella as a source for NGO's to connect while offering over-site to assure maximum potential for their visions. The task force believes that this will bring together those that have a vision but don't really know how to bring it to pass, and offer a venue for those that need support and guidance. This next conference will include an entire day just for NGOs.
To stay in touch with TIATF as they move into this phase of the Vision / Mission to create a culture free of slavery sign up for e-newsletters on the website at http://www.traffickinginamericataskforce.org