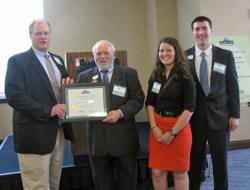 "I am honored to accept this award on behalf of our hard-working staff and our loyal customers, who consistently demonstrate their commitment to delicious, healthful, locally sourced and elegant food and events." ~ La Prima President Dave Evans
College Park, MD (PRWEB) June 13, 2013
La Prima Catering, a full-service corporate and special events catering company, has earned another feather in its sustainability cap: the company has won the Maryland Green Registry's 2013 Leadership Award for its role as an industry leader in green practices. La Prima accepted the award at the Registry's annual membership and awards event June 11 in Annapolis, MD.
The Maryland Green Registry recognizes organizations that have shown a strong commitment to the implementation of sustainable practices, the demonstration of measurable results and the continual improvement of environmental performance with the leadership awards.
"This Award honors the highest level of commitment to environmental stewardship and sustainable business practices," said Secretary Robert M. Summers, Maryland Department of the Environment. "La Prima Catering truly demonstrates the leadership our state needs to help build a sustainable future."
"We are extremely proud that our ongoing efforts to be the greenest, most sustainable caterer in Maryland and the entire Mid-Atlantic region have been recognized by this prestigious award," said La Prima President Dave Evans. "I am honored to accept this award on behalf of our hard-working staff and our loyal customers, who consistently demonstrate their commitment to delicious, healthful, locally sourced and elegant food and events."
La Prima was recognized as an industry leader in sustainable practices such as:

Gardens and Partner Farms: Each week La Prima's kitchens include farm fresh, organically grown produce in all meals. In addition, the company's special events division, Catering by Seasons, specializes in farm to table celebrations with produce, fruit, meats, dairy and flowers sourced locally from our sustainable partner farms.
Energy Independence: La Prima's Maryland kitchens operate using renewable Wind energy credits from Clean Currents. Through the use of wind power, the company reduces its dependence on coal and other non-renewables. The company also uses Energy Star and eco-friendly equipment in its kitchens and offices.
Environmental education: One of the most important parts of La Prima's Green Leadership is proactive education of staff, clients and the community. Farm 'field trips,' garden training sessions, company-wide environmental statements and kitchen evaluations allow La Prima to create a "culture of sustainability" among its employees. Staff are also able to relay useful information to clients, family and the surrounding community, truly bringing their work home and taking the company's green efforts to heart.
Earlier this year, La Prima earned the prestigious 3-Star Certification from the Green Restaurant Association. La Prima's College Park kitchen is the highest ranked caterer in the DC metropolitan area, based on GRA's exacting standards.
For couples interested in celebrating their weddings in eco-elegant, sustainable style, La Prima is also now a "5 Leaf" certified green caterer (5 out of 5 leaf rating) on the Green Bride Guide – again the highest score for a caterer in the DC metro region.
##
La Prima Catering kitchens operate in five locations throughout the Washington, Baltimore and Philadelphia metro regions, providing unsurpassed service that is fast and flexible. The company's Catering by Seasons division offers a delicious, contemporary menu full of imagination and style for memorable special events such as weddings, corporate galas, religious celebrations and other important occasions. Its "Seeds to Celebration" program provides fresh-from-the-garden, elegant and sustainable events that support local farms and protect the environment. The company's "H Generation" division provides a nutritious school lunch program for area schools.