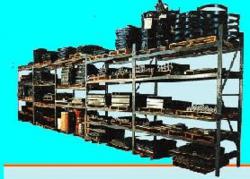 A Plus Warehouse sells the best Pallet Racks!
Salt Lake City, Utah (PRWEB) June 18, 2013
In the past, A Plus Warehouse's only stocking location for Pallet Racks was in North Carolina. However, today this is not the case with the company's new stocking location in the wonderful state of Massachusetts. Having this new stocking location allows for quicker shipping times to customers in the New England area. With so many options to choose, it is no wonder customers love A Plus Warehouse's Pallet Racks.
A Plus Warehouse Pallet Racks are used in many factories in warehouses nationwide. Here at A Plus Warehouse, friendly sales people make buying pallet racks extremely easy. Pallet Racks include uprights and beams. Some customers also choose to order wire decking, row and wall spacers, and mounting bolts. Most customers prefer traditional tear drop style, while others prefer keystone and structural pallet racks and other alternatives offered at A Plus Warehouse. Many other companies may only offer the traditional teardrop. Another interesting fact about Pallet Racks at A Plus Warehouse is that they come pre-configured with or without wire decking. A Plus Warehouse is one of the few companies that have this option. This saves much time and effort. However, if a customer prefers to have their Pallet Racks in components the company can also do that upon request.
While using Pallet Racks A Plus Warehouse would like to remind customers to keep it safe. When loading Pallet Racks, be aware of whether or not the rack is intended for machine use. All Pallet Racks are different and suit different needs. A Bulk Rack, for example, should not be loads by a forklift. Most of the time hand loading is compatible with most of A Plus Warehouses Warehouse Racks
The Lynx Pallet Rack is a popular type of rack offered here at A Plus Warehouse. This rack has a very wide range of sizes offered. Uprights are stocked as small as 72 H X 36 deep. Not many other companies can say that. The Lynx Rack also includes a double slot design which allows for high capacity.
Customer love racking at A Plus Warehouse, which is a reason the company is so glad to have this new stocking location. The company hopes that this new stocking locations makes it so racks have even quicker shipping times. A Plus Warehouse is the operator of http://www.apluswhs.com and distributes materials handling and storage equipment nationwide and throughout Canada. The sales staff at A Plus Warehouse is available at 800-209-8798. A Plus Warehouse has been in constant operation since 1996.