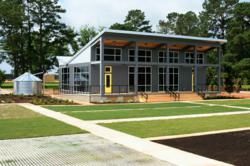 Ben's view of water use is that we don't have a supply problem in Georgia; the state is very blessed with rainfall compared with most of the world. We do, however, have a rainfall collection and smart use problem. In the Irrigation Demonstration Gardens
Ft. Valley, GA (PRWEB) June 27, 2013
Super-Sod's new office for Middle Georgia is a handsome dark gray building, but the building is really "green" in philosophy and practice. Super-Sod vice president Ben Copeland, Jr. decided to move ahead with the new office and surrounding gardens after a visit to Israel to study water use with a Georgia Department of Agriculture trade mission. There he learned that, with a combination of old technology (cisterns are thousands of years old) and new irrigation equipment, even a desert can bloom. As well as new sales center for the area, Super-Sod's intention is that this site will serve as a model and educational center for smart water use.
Many landscape features are apparent at a glance. The first is the customer parking lot that combines special pavers and turfgrass to form a water permeable system called Drivable Grass®. It's a new sustainable landscaping product and Super-Sod is the sole distributor in the Southeast. This system is a great solution to water quality problems associated with runoff from impervious parking areas and it can greatly reduce the heat island effect of regular parking lots.
The salient feature from the side of the building is the butterfly roof and above-ground cistern. What is a butterfly roof? It's a roof sloped toward itself to catch more rainwater than an ordinary gabled roof. It catches rain drops efficiently, then directs the water into gutters that drain into two cisterns, one on either side of the building. Rainwater from the roof is collected in the enormous cisterns (16,900 gallons total) that will supply all the irrigation to the garden.
Ben's view of water use is that we don't have a supply problem in Georgia; the state is very blessed with rainfall compared with most of the world. Georgia does, however, have a rainfall collection and smart use problem. In the Irrigation Demonstration Gardens all the irrigation water will come from collected rain. Interestingly, the gardens are not planted with drought-tolerant plants as a feature, rather the traditional gardening approach of planting ornamental plants that grow well in the heat of Middle Georgia were chosen based on affinity and preference for their beauty. This is not a risky situation: the system is designed to collect enough water to carry the gardens through even the worst drought. An example of the numbers: 1" of rain captures 3000 gallons from the roof and the worst drought on record in the area involved 1" of rain over 6 weeks.
Coupled with the ample cisterns is the "latest technology" in irrigation tools. Efficient sprinkler heads, smart meters and timers, and irrigation mats that irrigate from below. Reducing evaporation (water loss during irrigation) is a goal and so is irrigating based on evapotranspiraton rates (the amount of water the plant needs based upon the weather). For instance, irrigating from below minimizes evaporation and the HermitCrab irrigation controller accesses the Internet to get current evapotranspiration rates. When evapotranspiration is low the irrigation system does not turn on---this technology alone can reduce water use by up to 50%.
In addition to smart irrigation practices and technology, the native Georgia clay is highly amended with Super-Sod's own Soil3 OMRI Listed organic humus compost. Soil3 improves hard clay soil by building soil structure, increasing drainage, maintaining water holding capacity, and adding nutrients and beneficial soil microbes.
Directly in front of the Drivable Grass® parking area is a broad grid that displays varieties of sod grown and sold by the company: Zenith® Zoysia, Emerald Zoysia, TifGrand™ Bermuda, Tifway (419) Bermuda, TifBlair Centipede, and Mercedes® St. Augustine. Underneath all the sod is the extensive system of Eco-Mat irrigation mats that waters the sod from below.
The front of the office building impresses with the tall facade of tinted windows made with low E glass. This wall of windows faces North, to reduce solar heat gain and provide plenty of natural lighting---few lights are turned on inside during the summer.
Upon entering the building, cool temperatures and warm wood greet the visitor. A silent fan from Big Ass Fans® circulates above and the hardwood floor is made from locally harvested and milled wood, plus the ceilings, doors, and trim are paneled with reclaimed poplar wood. Behind the scenes a Nest thermostat cuts heating and cooling energy use by 20%. Other features that aren't readily visible to the eye are: spray foam in ceilings and walls (highest R value); a sealed, insulated foundation; modular construction of the office which cut building material waste by 20%; and on the roof reflective metal roofing was used.
Visit the Irrigation Display Gardens anytime Monday-Friday from 8am to 5pm and Saturday from 8am to 11am. Please call the office to schedule a guided tour. For ordering any of the products sold by Super-Sod (sod, grass seed, Drivable Grass, Soil3 organic compost), call or visit the websites supersod.com and soil3.com.
Super-Sod
158 Sod Farm Road
Ft. Valley, GA 31030
Toll Free: 800-535-1320
Local: 478-825-7422
Irrigation Display Gardens
-Butterfly roof to capture rainwater
-Rainwater stored in an above ground cistern (9400-gal) and a below ground cistern (7500-gal)
-Drivable Grass® permeable pavers
-Efficient low-pressure drip irrigation
-Eco-Mat subsurface irrigation from Hunter that irrigates from below (reducing evaporation and runoff)
-HermitCrab irrigation controller that accesses evapotranspiration rates from the Internet and stops the irrigation from running when evapotranspiration rates are low
-Soil3 organic humus compost (soil3.com)
Green Office Building
-Low E glass (tinted)
-Natural lighting (few lights used in summer)
-Solar orientation to reduce heat gain
-Isis® from Big Ass Fans® to efficiently circulate air inside
-Reflective metal roofing – cuts cooling
-Nest thermostat that cuts heating and cooling by 20%
-Reclaimed poplar wood for ceilings, doors, trim
-Locally harvested and milled hardwood flooring
-Modular construction – cuts building waste by 20%
-Spray foam in walls and ceilings with the highest R value
-Sealed, insulated foundation
-Zero stormwater runoff: reduced impervious surfaces and water capture by cisterns