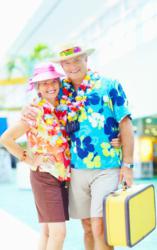 Toronto, Ontario (PRWEB) June 14, 2013
Quote comparison service, KANETIX offers fast, free and secure insurance comparisons making it easier for travelling seniors to find and compare quotes from top travel insurance companies in a one-stop shopping environment, helping seniors find the right coverage for their needs.
Senior Medical Insurance & Senior Travel Insurance
Regardless where a consumer is thinking of travelling to, KANETIX is easily the best place to shop around for senior travel insurance and travel medical insurance for seniors. KANETIX aims to save a customer's time and money through its quick and easy senior travel insurance comparison tool.
It is very simple to find the best travel insurance for seniors just by following these three simple steps:
1. Consumers should tell KANETIX where they are going and how long they will be staying there
2. Customers can come to KANETIX.ca to compare quotes and coverage for travel health insurance for seniors.
3. Travellers can buy their desired policy online or purchase it over the phone. It is quick, simple, and saves time and money for those looking for cheap travel insurance for seniors online.
For extra help for consumers who are looking for information regarding travel insurance, they are encouraged to visit Travel Insurance 101 to understand why travel insurance is an essential part of any vacation. If travellers are looking for more guidance in understanding any of the terminology used, they are encouraged to visit KANETIX's travel insurance glossary to find the definitions of key terms. If there is something that is not covered in these resources, customers can visit other useful travel information, related questions and answers here.
About Senior Travel Insurance
Senior citizen travel insurance policies are usually negotiated with licensed insurance professionals. Selecting the right coverage from the available options can be a challenge. The need for more than basic coverage is sometimes a factor considered with senior citizens because of pre-existing medical conditions. As a result, when senior citizens are shopping around for travel insurance, it is beneficial to them to consider their current health when considering travel insurance.
It is also important to note, that senior citizens should seek clarification from their insurance provider if there are situations that are excluded from their travel insurance policy. Additionally, it is important to find out how the insurance company determines eligibility. Furthermore, senior travel insurance is an example of a regular insurance plan offered by some insurance companies to cover people above the age of 60 travelling outside Canada. This insurance plan is intended to help senior citizens pay for costs of accidents that may require medical care or damage that occurs to their properties or those they rent while staying abroad.
Types of Senior Travel Insurance
Canadian seniors purchase travel insurance to provide protection against unforeseen circumstances while abroad. Some travel insurance policies cover plane crashes and terrorist evacuation. Such insurance policies are security measures that could help policyholders save a lot of money in the end. Here is a list of the typical types of coverage that can be obtained, other than travel medical insurance, for senior citizens in Canada.
Trip cancellation coverage reimburses policyholders for non-refundable expenditures and deposits incurred when a scheduled trip is cancelled for any reason acknowledged by the insurance policy. Travellers are insured if a trip is cancelled due to death, sickness or bankruptcy.
Trip interruption coverage absorbs the costs incurred as a result of suspension of the trip. This means the insured is reimbursed for all non-refundable costs associated with the suspension of the trip as well as expenses incurred as a result of the trip's early end.
Health and medical evacuation covers expenses for medical emergencies that occur abroad. However, this coverage does not include routine medical exams. When travellers get injured or become sick abroad and there is no medical facility that can provide sufficient healthcare, medical evacuation coverage will provide transportation back to Canada for further medical care.
Baggage protection reimburses travellers when they lose their baggage. Some policies provide coverage for bags that are delayed for more than 12 hours during transit. People travelling with highly priced commodities can consider paying a higher premium for additional coverage.
*Senior travel insurance may also cover expenses associated with car rentals and emergency dental procedures.
All Inclusive Travel Insurance
All inclusive travel insurance covers most of the unpredictable events that could occur during a trip. Consumers only have to purchase an all inclusive travel insurance policy once, making it a more convenient option in comparison to individual specialized policies. Coverage details will vary across different policies but all insurance travel insurance can provide trip cancellation and trip interruption insurance, accidental death and dismemberment insurance, delayed/lost baggage coverage and, of course, emergency medical insurance.
Additional Travel Resources
If most travellers have done their research and decided to get their travel insurance coverage at the last minute, KANETIX offers an app for the last minute shopper. The KANETIX Travel Insurance App features a travel checklist, weather forecasts and a fun search function where consumers can stumble upon fun destinations. The KANETIX Travel Insurance App can also send reminders for policy renewals and even save quote comparison details.
Lastly, consumers can check out KANETIX's travel kit for help with planning and managing a trip. The travel kit has three sections: a travel checklist, travel itinerary, and an emergency contact information sheet which can all be printed in a wallet-sized copy or be easily emailed.
Currently senior travel insurance quotes from KANETIX are available for the following provinces: Ontario, Quebec, Alberta, Nova Scotia, New Brunswick, British Columbia and Saskatchewan.
About KANETIX®
Launched in October 1999, KANETIX was Canada's first online insurance marketplace and today provides over a million quotes per year to consumers looking for insurance, as well as comparisons for mortgage rates and credit cards.
The KANETIX comparison service is a one-stop shopping environment for consumers. Each day, thousands visit the KANETIX website at http://www.KANETIX.ca to comparison shop their various financial needs. Shoppers choose what they want to compare, obtain a quotation and complete an online application or, with the help of KANETIX connect with the provider to purchase or apply for the product over the phone.
Through its Software as a Service team, KANETIX is also the leading provider of online insurance quotation technology, developing online quotation systems, mobile solutions, actuarial tools and websites for many of Canada's largest insurance brands.
For more information, visit KANETIX.ca or contact:
Natasha Carr
416.599.9779 ext. 343
publicrelations(at)kanetix(dot)ca
Kanetix Ltd.
-30-