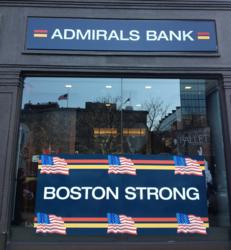 The services we provide enormously simplify banking for our clients, which is why many business professionals in various industries find Bespoke Banking so attractive.
Boston, MA (PRWEB) June 17, 2013
Boston is a strong and cultured city, complete with diligent, engaged and hard-working individuals. Bespoke Banking offers these busy Bostonians 24-hour availability, door-to-door services, the latest technology and a relationship tailored to their specific financial needs. Admirals Bank, headquartered in Boston, maintains a Bespoke Banking Center at 579 Boylston Street in the Back Bay.
Nicholas W. Lazares, Chairman and Chief Executive Officer of Admirals Bank commented, "My professional career is rooted in Boston, and I've spent over 25 years in the banking industry. One thing I've learned is that Bostonians want prompt, reliable and first-class banking services."
Bespoke Banking clients work closely with their personal Relationship Banking Officer, who is available at any time to provide concierge banking services and facilitate financial requests. Clients can also access state-of-the-art banking technology that allows them to conduct most banking transactions from a mobile device. These services empower Bespoke Banking clients to bank easily from anywhere.
Mr. Lazares continued, "The services we provide enormously simplify banking for our clients, which is why many business professionals in various industries find Bespoke Banking so attractive."
Bespoke Banking focuses on providing clients with services that are personalized, responsive and convenient. Clients have quickly embraced the concept of Bespoke Banking and no longer endure the frustrating experiences at their former financial institutions.
Thomas E. Sleeper, President and Chief Executive Officer of InterContinental Insurance Solutions stated, "I recently changed my private banking institution to Admirals Bank when they opened up in Boston. Admirals' concierge service, product knowledge, professionalism and personalized service supersedes any other banking relationship I have had in the past thirty years."
Thomas Fay, Esq., of Kirshenbaum & Kirshenbaum PC, agreed, "I have had many banking relationships over the years but never has there been a bank, like Admirals Bespoke Banking, whose sole commitment is to their client."
Business professionals with challenging schedules will utilize their Relationship Banking Officers in situations where accelerated banking services are required. Bespoke Banking is perfectly suited to complement the most aggressive daily agendas.
And as a Bespoke Banking client you are one call, one click or one touch of an application away from conducting banking transactions. Admirals Bank has two Bespoke Banking Centers in addition to their Boylston Street location. One recently opened at 15 Park Row West in Providence, RI and the other is located at 40 East Street in Ludlow, MA. For more information about Bespoke Banking please visit admiralsbank.com/bespokebanking or call 617-933-1450 to speak with a Relationship Banking Officer.
About Admirals Bank
Admirals Bank is a federally-chartered financial institution headquartered in Boston, MA with a Regional Banking Center in Providence, RI. Admirals Bank is an active acquirer of commercial real estate loans in the secondary market and also remains a leading national provider of the Title I Home Improvement Loan. Since last year, Admirals Bank has focused its Title I lending efforts in the residential solar and renewable energy industry. Admirals Bank also offers customers additional borrowing options such as Residential Mortgages and Personal Loans. Admirals Bank provides customers with classic banking options such as checking, savings and money market accounts, which can be conveniently opened and accessed online or via a mobile device. Admirals Bank also introduced Bespoke Banking to the financial industry, which is individually tailored, highly customized, relationship banking. Admirals Bank is an Equal Housing Lender and Member FDIC.