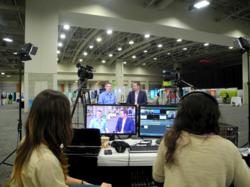 TMA Resources does a great job of truly capturing the many different aspects of this conference and it's the perfect vehicle for delivering news in a timely manner
Vienna, VA (PRWEB) June 14, 2013
TMA Resources, the provider of Personify association management software, continues to be the official video news provider for ASAE's large meetings. With their show "Live from ASAE" TMA Resources covered ASAE's Marketing, Membership & Communications Conference (MMCC), which was held June 4-5 at the Walter E. Washington Convention Center.
Reporters interviewed session presenters, the Gold Circle Award for Overall Excellence winner and both of the conference's keynote speakers. The team also sat down with Megan Denhadrt of ASAE to get the inside scoop on the evolution of the conference and even captured a controversial debate on the future of membership models.
"The variety of content TMA Resources shares through "Live from ASAE" takes an innovative approach to sharing content from conferences" says Karl Ely, ASAE Sr. VP & Publisher. He continues, "TMA Resources does a great job of truly capturing the many different aspects of this conference and it's the perfect vehicle for delivering news in a timely manner."
Jenna Crane, Content Marketing Manager at TMA Resources states, "The MMCC is growing in every area from attendees to exhibitors to sessions to activities. The videos allow people in attendance, as well as those who could not make it, to keep up with conference news." She continues, "The association community values strong peer relationships and these videos provide people with a personal connection. Several people told us that "Live from ASAE" helped them feel as if they were at the event."
TMA Resources will also be hosting the video segment at the ASAE Annual Conference in Atlanta in August.
For updates on new videos, follow @TMAResources on Twitter. TMA Resources also hosts three weekly video shows including, "Best Practices in Association Technology," "Association Tech News," and "Connect Plus." These shows as well as "Live from ASAE" are hosted at http://www.tmaresources.com/resources/videos.
TMA Resources', http://www.tmaresources.com flagship software Personify combines a powerful technology platform with advanced e-business and BI functionality to provide the Constituent Relationship Management (CRM) and Association Management Software (AMS) solution of choice for some of the world's most advanced professional societies and trade associations.