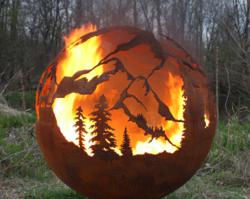 Houston, TX (PRWEB) June 15, 2013
Melissa Crisp demonstrates in her new designs her growing skill and comfort in working with steel fire spheres. Her use of perspective takes her latest designs to another level.
Her internationally acclaimed "Up North" fire sphere features a Stag, Doe and Fawn and a Bull Moose. These vignettes are flanked with Tamarak Trees with Ducks flying in the tree canopies.
In "High Mountain" the scene changes to the grandeur and splendor of the Rockies. The featured wildlife are the Ibex, the Mountain Lion and the Bear.
In "Wildfire Mustangs", Melissa draws her inspiration from the wild mustangs of the prairies and her use of bending metal to create and accentuate the flow of the mane and the muscle tones of the horses. Two stallions are depicted in a battle for the right to control the herd.
http://www.fabfirepits.com is a division of Donna and Keith Enterprises and specializes in supplying custom fire pits made in USA.