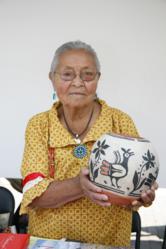 Santa Fe, NM (PRWEB) June 14, 2013
The Southwestern Association for Indian Arts is proud to present the 2013 honorees for the Lifetime Achievement and the Pov'ika Award on June 27th at the Historic Hilton of Santa Fe.
The 2013 honorees for the Lifetime Achievement Award are Santo Domingo potter Crucita Melchor and Navajo jeweler Herbert Taylor (posthumously-awarded). The Lifetime Achievement Award was established in 1995 to recognize artists whose body of work reflects a lifetime of integrity and excellence. These honorees are artists who have made a significant contribution to American Indian art. Previous honorees include Maria Martinez, Allan Houser, Pop Chalee, and Lloyd Kiva New.
The 2013 honoree for the Pov'ika Award is Comanche weaver Josephine Myers-Wapp. The Pov'ika award was established in 2006 to recognize service, leadership, and support of the annual Santa Fe Indian Market and Native artists and communities. The Pov'ika award was named to honor famed San Ildefonso potter (and SWAIA's first female Lifetime Achievement recipient) Maria Martinez.
About the Honorees
Crucita Melchor (Santo Domingo) was born in 1932 into a rich tradition of potters. The unique Santo Domingo techniques of making and designing pottery were passed down through many generations in her family. Melchor carries on these traditions and values by teaching her children and grandchildren the techniques she uses. While preserving the time defying authenticity of her pottery, Melchor instills each piece with her unique artistic vision. Melchor has received several awards for her work in pottery, including an invitation to the White House as part of a group of top Pueblo Indian potters.
Herbert Taylor (Navajo) (1960-1996) was a nationally known and highly influential Navajo jeweler. Taylor grew up on the Navajo Reservation in Indian Wells, Arizona and learned traditional techniques and values from his mother and father, a weaver and silversmith respectively. Taylor dedicated himself to his work, saying "I try to beat the sun everyday. If the sun comes up and sees you working, you will be rewarded. If the sun comes up and sees you still in bed, you won't be rewarded". It was this hard-working spirit and artisanal understanding of the medium that propelled him to success. Taylor was a recipient of many awards at the Santa Fe Indian Market, the Heard Museum in Phoenix, AZ, and the Gallup Ceremonial.
Recognizing traditional art's value in preserving and reviving Native culture and tradition, Josephine Myers-Wapp (Comanche) has spent her life learning, practicing, and teaching traditional arts. Myers-Wapp was born in 1912 in Apache, Oklahoma and learned the Comanche ways from her grandmother. Instead of using a loom to create her beautiful pieces, Myers-Wapp makes them by hand, using the traditional finger weaving technique, and even dyes her own yarns. She is not one to shy away from a difficult task: "There are only three basic patterns of finger weaving, says Myers-Wapp. Naturally I picked the hardest one, the arrow point, but I just kept on it until I mastered it." She was invited to be one of the first faculty instructors at the Institute of American Indian Art (IAIA) and has displayed her work at fashion shows and exhibitions across the globe.
This event is open to the public. Tickets cost $25 and will be available until Wednesday, June 19th. Click here or call 505.983.5220 to purchase tickets.
For more information, please visit http://www.santafeindianmarket.com.
About SWAIA
SWAIA is an advocate for Native American arts and cultures and creates economic and cultural opportunities for Native American artists by producing and promoting Santa Fe Indian Market Week™, the finest Native American art and cultural event in the world; cultivating excellence and innovation across traditional and non-traditional art forms; and developing programs and events that support, promote, and honor Native artists year-round.
SWAIA is a non-profit organization, and keeps no portion of the sales made by artists during Santa Fe Indian Market Week ™.
Follow SWAIA on Facebook, Twitter, Instagram, and Pinterest.