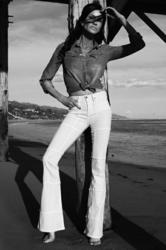 "I know it's going to hit big, because I've worked with every jean label on earth and this is the next big thing." Janice Dickinson
San Francisco, CA (PRWEB) June 14, 2013
June 13, 2013 (San Francisco, California)- Sonas Denim, a San Francisco denim company that specializes in making couture patchwork denim jeans attempted to launch a Kickstarter campaign June 10, 2013 to help reach new customers and secure fundraising goals but was denied. Kickstarter, a New York-based for-profit crowd-funding website, denied the campaign saying "this project does not meet our guidelines as resale of existing inventory is prohibited." Sonas Denim, who does not have an existing inventory in possession, attempted to appeal the decision but were denied. The video, that includes former-supermodel and reality television personality Janice Dickinson, was made by students and professionals who donated their time for the brand. Instead of letting the Kickstarter failure discourage them, Sonas contacted San Francisco-based Indiegogo, which was founded in 2008 before Kickstarter. The company hopes to utilize the close-knit San Francisco fashion community to gain grassroots support for the fledgling brand by reaching out to local bloggers and press. To recruit support for it's crowd-funded campaign, "We're cutting out the middleman so we can give you a pair of 200 dollar jeans for 99 dollars" says Founder and CEO, Gerry Kelly. Sonas Denim is offering its signature jeans for $99 dollars, at less than half of the retail value of $249.
To Watch Indiegogo Video Featuring Janice Dickinson Visit:
http://www.indiegogo.com/projects/sonas-san-francisco
Video went live at 12:05AM, and currently has over $3,000 dollars of donated funds.
ABOUT SONAS DENIM
Sonas has been creating innovative patchwork jeans for the past two and a half years in the heart of San Francisco. Sonas Denim was founded by Irish designer and businessman, Gerry Kelly. Gerry and his wife began making patchwork jeans for Burning Man festivals on their living room floor. As the jeans began to sell, Gerry worked tirelessly with established denim factories to focus on fit and fabrics to create a curve-hugging, thigh slimming up-and-coming new "it" jean. Their signature jean, designed and manufactured in California, is a unique patchwork couture jean made from over 50 individual pieces. These unique details have an amazing slimming effect on the body, drawing the eyes to the vertical patchwork and away from thighs. After a flood of great feedback from customers and press, Kelly decided to build the next great denim brand right here in San Francisco, Sonas Denim.
Gerry and his wife Christine live in city's NoPa district with their newborn son.
###