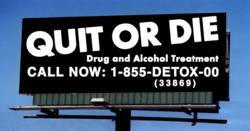 Unless you take action soon by checking into a certified detox center such as Harbor Village that offers safe, effective treatment, you run the risk of realizing serious consequences. - Robert Niznik, Harbor Village CEO
Miami, Florida (PRWEB) June 17, 2013
"Quit or Die." That's the powerful and highly controversial billboard headline drivers traveling on South Florida's busiest highway will see on their daily commutes. Situated on I-95 at the I-595 junction, the bold, hard hitting message addresses drug and alcohol addiction by communicating that those suffering from these dependencies should take immediate action to save their lives.
Harbor Village, a premier South Florida detox center created the persuasive advertising to appeal to potential drug and alcohol abuse clients to check in to their facility for treatment now. The center wants everyone in South Florida to know that if you are experiencing a problem with drugs or alcohol, seek the assistance you deserve before it's too late.
"In addition to great health risks, drug and alcohol abuse can cost you your job, family and perhaps most importantly, your dignity. Unless you take action soon by checking into a certified detox center such as Harbor Village that offers safe, effective treatment, you run the risk of realizing serious consequences," said Robert Niznik, Harbor Village CEO.
Niznik added that many suffering from drug or alcohol abuse may not recognize they have an addiction issue or that detox centers exist. At Harbor Village, centrally located at 9198 N.W. 8th Avenue in Miami, a trained staff administers medically supervised treatment for many types of substance abuse including illegal drugs, prescription drugs and alcohol with programs lasting 3-7 days.
Harbor Village, located in sunny South Florida, features a full time professional team including psychiatrists, nurses, counselors and a hospitality support staff who develops personalized plans of recovery designed for each client's specific dependency. In an upscale, state-of-the art environment, clients checking into the center are greeted by luxurious accommodations including a beautifully furnished suite complete television and headphones, over an acre of scenic outdoor lounge area, on premise spa, salon, massage and acupuncture services and nutritious, gourmet dining.
For more information, visit: http://harborvillageflorida.com/  or call the 24/7 hotline at 1-855-338-6900.
Media Contact: 
Robert Niznik 
Harbor Village 
Miami, FL 
305-999-5728 
robert(at)harborvillageflorida(dot)com