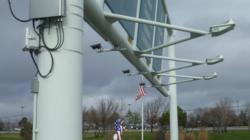 CMPD's ALPR camera deployment created one of the largest single LPR networks in the United States.
Charlotte, SC (PRWEB) June 13, 2013
On Tuesday the Department of Justice released an analysis commending NDI Recognition Systems customer Charlotte-Mecklenberg Police Department (CMPD) for their handling of security for the 2012 Democratic National Convention. The analysis praises the CMPD's planning, training, and execution, and recommends that other cities use the report as a "planning primer" when hosting large events.
As part of the preparations for the convention, the CMPD deployed more than 100 automatic license plate recognition (ALPR) cameras from NDI Recognition Systems, according to a detailed accounting report released by the city on Tuesday. The ALPR camera deployment created one of the largest single LPR networks in the United States, according to NDI Recognition Systems president Alan Quinn.
The Justice Department analysis also states that one reason for the CMPD's operational success was "its ability to maintain unparalleled situational awareness through the use of real-time intelligence." NDI Recognition Systems ALPR cameras were part of more than 600 fixed and mobile surveillance cameras deployed through the city during the event, and fed data into the CMPD Command Center to help law enforcement make response and resource-allocation decisions.
An NDI Recognition Systems customer for more than five years, CMPD has continued to use NDI's ALPR cameras, along with other equipment and resources acquired with the $50 million federal grant for convention security, in the months since the convention has ended to assist in law enforcement and criminal investigations. "NDI Recognition Systems is very proud of the work we did to help the city of Charlotte and the CMPD prepare for and host the Democratic National Convention," Quinn said. "We look forward to continuing our partnership and helping to protect the citizens of Charlotte."
Headquartered in Florida, and serving 40 countries worldwide, NDI Recognition Systems is a world leader in ALPR systems for law enforcement. Visit NDI Recognition Systems at http://www.ndi-rs.com.