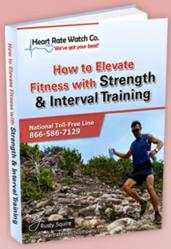 These are tried and true methods that have been used by world-class athletes for decades, so nothing is left to chance
Bozeman, MT (PRWEB) June 13, 2013
The Heart Rate Watch Company is offering "How To Successfully Use A Heart Rate Monitor" and "How To Elevate Fitness With Strength and Interval Training" as complimentary e-book downloads for all customers and prospective customers with no purchase necessary.
"For several years we offered these e-books as complimentary downloads to all customers who made a purchase from our website but we feel these books will be beneficial to all who are interested in serious heart rate training", says Rusty Squire, President of the Heart Rate Watch Company and the author of the books.
BUILDING THE AEROBIC ENGINE
"Building a big foundation and a strong aerobic engine requires restraint, you just can't go out and beat your head against the wall everyday at maximum effort", says Squire. He adds, "These are tried and true methods that have been used by world-class athletes for decades, so nothing is left to chance, plus diet is an important component part".
"It is really necessary to have a heart rate monitor that continuously monitors your heart rate but the good news is you can get a good one, like the Polar FT4, for a little over $60 and you are good to go", says Squire.
HUNDREDS OF SUCCESS STORIES
"We receive calls from customers every week that are excited to tell us how much weight they lost and how much better they are because of reading these books", says Squire. He adds, "We even have many NCAA level athletes that have followed their advice and are excited by the results".
You'll learn why resting heart rate is an important measure of recovery and a barometer for daily workout intensity. "We focus a lot on understanding both rest and recovery heart rate because these are important gauges for both fitness and recovery", says Squire.
"Anyone can visit our Heart Rate Watch Company website and simply click on the "Book, Blogs and Tools" tab, go to "Free Fitness Books" and then simply download the books", says Squire. He adds, "We don't regulate it or even ask for your e-mail, so it is as complimentary as it gets".