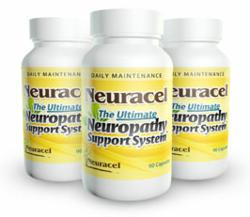 Boise, Idaho (PRWEB) June 13, 2013
A disorder of the nerves, Neuropathy is amongst one of the biggest challenges currently faced by medical experts. The severity of the problem that neuropathy presents can be gauged by the findings published on ABC7 at http://goo.gl/xDy31 which states that the number of people suffering from this medical disorder is around 20 million in the United States alone. While for some patients the pain is akin to experiencing a burning or tingling sensation in anywhere from the upper to the lower extremities of the body, for others it brings numbness and loss of sensation. To make matters worse, the treatments currently available for neuropathy are not very effective with most of them involving years of repetition. Even if some treatments do work, the prices charged for them take quite a toll on the patients, financially. However, with the launch of Neuracel's Ultimate Neuropathy Support System, there may finally be a treatment that not only works, but is also affordable in equal measure.
Neuracel's Ultimate Neuropathy Support System
After years of careful research and experiment, the experts at Neuracel's have created a product that combines the best of traditional and modern medicine. The success of the product does not lie in the use of herbs. Instead, it is the unique combination of natural herbs that makes the product so potent. By blending together herbs such as California poppy, Lobelia, Prickly Ash Bark, Corydalis and Passion Flower, the Ultimate neuropathy support system promises patients rapid and lasting results. Unlike other similar products, the Ultimate neuropathy support system fights neuropathy from the core and helps manage the symptoms by repairing the damage done to the nervous system. Furthermore, as the ingredients of Neuracel are natural, the use of the product causes no dangerous side effects.
About Neuracel
Trusted by thousands of neuropathy patients, Neuracel continues to lead the fight against neuropathy. The high quality of the products manufactured is the hallmark of the premium standards the company maintains. For further information about the company and its products, visit http://www.Neuracel.com/specialoffer.php. The Ultimate Neuropathy Support System can also be acquired on http://www.Neuracel.com.