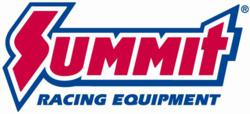 Tallmadge, OH (PRWEB) June 17, 2013
Maximize your high-performance engine's cooling and be nice to Mother Nature too with Summit Racing's new, non-glycol Ice Water Coolant.
Designed for all race engines, Summit Racing's Ice Water Race Coolant contains corrosion and rust inhibitors, anti-foaming agents, and other proprietary ingredients to protect your engine and provide maximum heat transfer, even in the most extreme operating conditions. The pre-mixed coolant is water-based, so it's environmentally friendly.
APPLICATIONS
Water-cooled high-performance street/strip and racing engines. Not for use as an anti-freeze or in temperatures below 32 degrees F.
PART NUMBER
SUM-943000 One gallon
Summit Racing Equipment
http://www.SummitRacing.com
1-800-230-3030