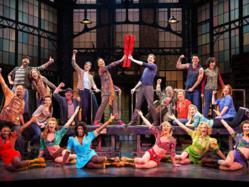 Denver, CO (PRWEB) June 14, 2013
The title may have a certain shock value, but the story itself is surprisingly sweet. In fact, both parents and the producer rate the play as appropriate for children 12 and over. But that's another story.
Running since March 2013, Kinky Boots is a new musical with songs by pop star Cyndi Lauper. Winner of six 2013 Tony Awards, including Best Musical, the play is about a bankruptcy-bound British shoemaker who saves his family's sputtering shoe business by adopting a wildly flamboyant clientele - to put it euphemistically, of course.
Performing to over 100 percent capacity on its extended run at the Al Hirschfeld Theatre on Broadway, the musical is proving to be particularly popular with audiences of almost all ages, who give it a very positive 4.3 rating out of five.
Critics have put out a lower rating of 3.6 out of five, a fact that appears to have been totally ignored by Tony Award judges and other award-granting groups, as well as families of avid theatre-goers. (Source: entertainment-link.com)
"Kinky Boots is proving to have an extremely widespread appeal with Broadway audiences," said Felina Martinez at online ticket marketplace BuyAnySeat.com. "While most of the performances begin to sell out closer to show time, we still have great inventory of tickets available."
"In fact, we're proud to be able to offer theatre-goers the most complete and continuously refreshed selection of Broadway tickets, with a worry-free guarantee to protect their purchase," said Martinez.
"To access the full listing of cheap Kinky Boots tickets we now have available, customers can go to BuyAnySeat.com and search for Kinky Boots – then select their tickets," said Martinez.
Daryl Roth and Hal Luftig produced the original production of Kinky Boot, which opened at the Bank of America Theatre in Chicago in October of 2012. It made its Broadway debut at the Al Hirschfeld Theatre on April 4, 2013, following previews that began on March 3, 2013.
Based on the 2005 British film of the same title, Kinky Boots was adapted for the stage by Broadway veteran Harvey Fierstein and first-time Broadway composer, pop star Cyndi Lauper, whose catchy songs have been lauded almost universally by critics and audiences.
The Disney-like story is about a struggling, family-owned English shoe factory that avoids bankruptcy when its second-generation manager/owner, Charlie, adopts a novel plan to produce fetish-type footwear for drag artists, rather than the men's dress shoes that his firm is known for. In order to save his family and his workers from losing their jobs, Charlie partners with Lola, a drag queen, to save the shoe business he inherited.
Lead actors include Stark Sands, a 2007 Tony-nominee for the powerful war drama "Journey's End," as Charlie, and Broadway veteran (and recent Tony winner) Billy Porter, who plays Lola. Tony-winner Jerry Mitchell is the director and choreographer.
On April 30, the musical received a season-high 13 nominations for the 67th Annual Tony Awards, winning a season-best six chunks of hardware, including Best Musical, Best Original Score, Best Choreography and Best Orchestration.
The play also received a Tony for Best Performance by an Actor in a Leading Role in a Musical for Billy Porter, who also received a 2013 Drama Desk Award for Outstanding Actor in a Musical. The production also picked up several 2013 Outer Critics Circle Awards, including Outstanding New Broadway Musical, Outstanding New Score, and Outstanding Actor in a Musical – again for Billy Porter.
Joe Dziemianowicz of the New York Daily News wrote that while the "script has issues like a pair of shoes" that don't quite fit, "Mitchell's production moves lickety-split" and "Porter … is a force of nature as Lola." But, he added, Lauper's "multicolored, surprising and fun" score outshines the fancy footwear and proves to be the "real star of this show". (Source: New York Daily News, April 4, 2013)
To shop for cheap Kinky Boots tickets, visit BuyAnySeat.com.
About BuyAnySeat.com: An online ticket marketplace, BuyAnySeat.com connects sports, theater and other live entertainment fans to an extensive network of ticket sellers worldwide. The site's simplified listings and navigational tools enable shoppers to easily locate, compare and purchase inexpensive, discounted or lower-priced tickets to virtually all advertised sports and entertainment events around the globe.
The marketplace, which is PCI-compliant and Norton Secured, also provides customers with a complete Worry-Free Guarantee on all ticket purchases. Based in Denver, Colorado, BuyAnySeat.com is a subsidiary of Denver Media Holdings. For more information, please visit http://buyanyseat.com.